"Good hair, good mood, good day" – it's no secret that having amazing hair can definitely set the tone for a good day!! A beautiful hairstyle seems to lift your mood and give you more energy to begin a new day. Therefore, all women always wish for smooth and voluminous hair that makes them more confident in any daily situation. If your hair is too thin or short, micro bead hair extensions are what you should consider to have appealing hairstyles. This is definitely an ideal choice for females who want to seek a safe method to own voluminous, long, and burnished hair. Now, find out the reasons why this type of hair extension is becoming more and more popular among today's young women. Shall we begin?
What Are Micro Bead Hair Extensions?
1. Micro Bead I-tip Hair Extensions
In terms of its definition, micro bead I-tip hair extensions are also known as I-tip hair extensions which are attached to the head by micro and discreet beads. Typically, the beads are lined with silicone with the aim of protecting hair from damage as well as securing it. Without using glue, tape, or heat, the application of micro bead hair extensions doesn't cause damage to your natural hair. So, you can feel safe and comfortable installing the extensions to add volume, length, and thickness to your natural hair.
When it comes to I-tip hair extensions, you might be wondering which place is the best to buy them. So, believe in Luxshinehair! We provide a lot of high-quality I-tip hair products that are made from 100% Remy hair extensions. You will find them incredibly natural to be applied to your real hair. There are enough textures like I-tip straight, curly, wavy hair with many colors and lengths. Our hair products promise to satisfy all your demands.
2. Micro Bead Weft Hair Extensions
In addition to I-tip hair extensions, tiny beads can be used to secure wefts to your natural hair. These tiny silicone-lined beads are attached straight to the wefts and then sewn onto your hair. Many people like micro bead weft hair extensions because they are quick and easy to apply. They can be reused if properly maintained, are simple to install and maintain, and can stay in place for an extended period of time. Furthermore, they do not require the use of glue, heat, or chemicals to install, reducing the risk of hair damage.
How To Apply Micro Bead Hair Extensions
1. The Way to Apply Micro Bead I-tip Hair Extensions
The application is quite simple to carry out and can last 1-3 hours. You need to pull a few of your natural hair into a micro bead along with the I-tip hair extensions by a hook. Then use a pair of pliers to clamp the bead down in order to secure the hair together. It is unnecessary for you to worry about whether the pliers damage your hair or not. It is totally safe to use!
2. The Way To Apply Micro Bead Weft Hair Extensions
For the best result, you had better go to a hair salon and have the extension applied to your hair by a stylist. He will install the beaded weft using a micro loop wand to pull a small section of hair through the beads. After that, the beads will be clamped down to keep the wefts secure in place. This method called the fusion technique, can minimize hair damage effectively and simultaneously give your hair the desired volume and length. So, it is easy to understand why many women are fond of these hair extensions.
Micro Bead Hair Extensions Pros and Cons
Pros
As mentioned above, micro bead hair extensions are safe to use and don't damage your natural hair because they are applied with no heat, glue, chemicals, or sewing technique. Furthermore, they don't cause any pressure on your real hair. Therefore, although you are wearing hair extensions, your natural hair is able to grow healthily.
It is easier to get rid of micro bead hair extensions, compared with other styles which you have to use a glue remover.
Micro bead human hair extensions allow you to create many different hairstyles by using heat tools like straighteners or curling irons with medium heat temperature. Additionally, you can dye them with any colors you like.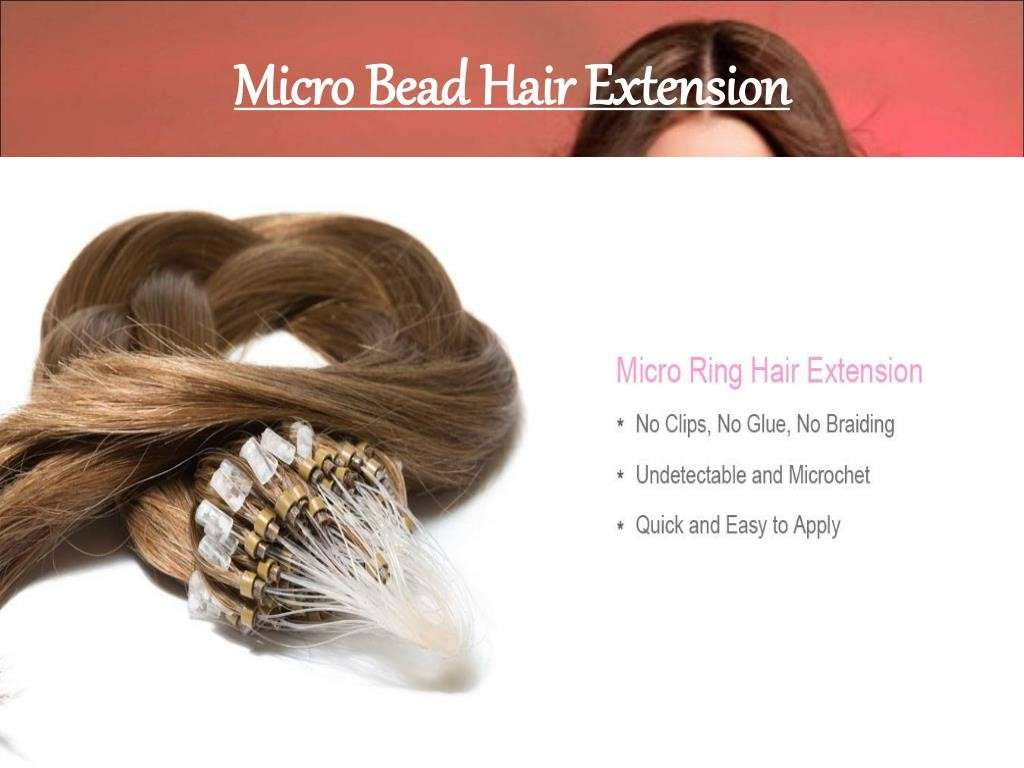 Cons
Some disadvantages of this type of hair extensions you should know are:
If you have unhealthy hair, these extensions might be not suitable for you
Because of using many beads, sometimes it can cause headaches for users
These hair extensions require a lot of care and maintenance. Thus, it is better to see your stylist every 2 months to have your hair cared for. In short, when using micro bead hair extensions, you have to use professional help and consistent methods as well to take care of it.
Micro bead hair extensions are an excellent choice for people who want to add length, volume, and adaptability to their natural hair. Because of their tiny, discrete beads that securely hold the hair in place, these extensions provide a smooth and natural look. Luxshinehair has provided you with some beneficial information regarding micro bead hair extensions. I hope that has helped you better understand beaded extensions and how to install them. Micro bead hair extensions will provide you with a plethora of styling options, letting you experiment with various looks and hairstyles. If you need more information or are seeking a reputable hair extensions supplier, please contact us, so we can assist you on your journey to hair perfection!
Next article: Microlink Hair Extensions