There is no denying that hair plays an important role in enhancing the beauty of women. Finding a suitable hairstyle can magically change your appearance. However, it's hard to get your favorite hairstyles sometimes since most of trends requires using heats to curl hair or bleaches and dyes which can easily damage your natural hair.
In today's post, Luxshinehair will show you the most effective and safe way to achieve your favorite hairstyle without using chemicals. It's wearing hair extensions. Among them, sew in on natural hair extensions are pretty popular since it's easy to install and style. Beside different types of sew in hair, the color of sew in hair extensions is various and trendy, suitable for anyone who loves colored hair.
Luxshinehair will introduce a list of the most amazing sew-in hair styles and colors (and curly hair sew in pictures as well) that transform your look incredibly. Let's see which are the most impressive sew in styles for natural hair!
Curly hair sew in
Curly hair weave sew in can be seen as one of the most popular products in international hair extensions market. Rocked beautifully by many women all over the world, especially celebs, curly hair sew in never drops out of top list favorite hair extensions. The length of this texture is quite flexible, easy to match different style like short curly hair sew in which is pretty nice. Here is one sample of a catchy short curly hair sew in weave
Curly sew in for natural hair
Curly sew in for natural hair is really a good choice for anyone who like curly texture without using heat from curling hair equipment. It's a safe way to have full and thick curly locks and easy to change to other styles. Full sew in no leave out curly hair is completely suitable for girls who still don't know how to style themselves. Among curly hair sew in weave, jerry curl sew in hair can be seen as the most interesting one which extremely suitable for someone who wants to have a fluffy, sporty but still a charming hairstyle.
If you like bangs, curly hair with bangs sew in is exactly what you are finding. On top of hair sew in styles, curly hair sew in with bangs not only make women more attractive but also quite helpful to someone who has an oval face.
Sew in kinky curly hair
Sew in kinky curly hair is also a perfect choice that you should try at least once in life. Kinky curly sew in hair is popular with different length, from short (10 inch hair extensions) to long one (more than 26 inch hair extensions). Kinky curly weave with closure is very unique in curly styles and recently becomes more and more popular in many market. Frontal hair weave, together with closure, is being one of the most favorite hair extensions style ever.
Deep curly hair
Besides, deep curly hair (crinkly hair sew in) is also the main product that Luxshinehair exports to international market much. This type of curly style will create a full and thick hair, which is really a dream of women who are suffering thin hair. Deep curly weave sew in hair extensions now can totally realize this dream!
Curly hair sew in styles are various and modernized to bring customers more options. As one of biggest suppliers of hair extensions, Luxshinehair always try to give you the best sew in curly hair. We use Vietnamese human hair as the material to make curly hair extensions sew in and our curly human hair sew in weave is always on top of best-selling products in different foreign markets. To produce the highest quality full sew in with curly hair, we only give customers human hair as the best curly hair for sew in.
That Chrissy Cousin wrote on her Instagram "because I mean, who doesn't like big hair" really motivate woman to purchase big curly hair sew in. It's also a good sew in for thin hair.
Curly weave closures are easily to sew in and give you a natural look
Curly hair sew in styles
If you are a big fan of curly hair, beside sew in hair extensions, you can try other types of extensions which are also easy to install and remove. Kinky curly hair clip in is a curly texture of clip-in style which is very simple to apply just by clipping directly on your natural hair. This clip on weave extensions are one of best-selling products that are loved by customers not only for easy installation but also for the quality of every single strand.
Half wig curly and curly u part wig are other types of hair extensions that you should try since it's much easier to use. Besides, if you like sporty and dynamic style, curly hair ponytail extensions is also a perfect choice! Luxshinehair also would love to introduce you curly i tip hair extensions (prebonded hair extensions) which is safe and lasts and stay secure.
All of our product are made from 100% Vietnamese human hair which are shiny, smooth and healthy.
Kinky ponytail hairstyles is also one of the best-selling products in the market. If you like curly texture and ponytail style, don't hesitate to try this unique hair extensions. This kinky hair ponytail will 100% satisfy you!
Kinky ponytail hairstyles
Wavy hair extensions sew in
Wavy sew in hair is becoming increasingly popular in the world since a big percentage of female celebs confessed loving wavy hairstyle which already creates a great inspiration to all women. There is nothing which can deny the elegance and sexiness that wavy texture bring to women.
That is also the reason why wavy hair sew in weave always stands in high position in top list of best selling products. Here is one picture of 24 inch hair weave
Sew in with loose wave hair
Sew in with loose wave hair is also popular since it brings a natural look to wearers. This kind of texture is really an impeccable choice for all girls who love to have a long and natural look locks. No need to wait for a long time even years to years using hair care products, only by putting on wavy hair sew in, can you see the unbelievable change of yourself!
Wet and wavy hair sew in
Wet and wavy hair sew in from Luxshinehair is unprocessed with natural waves, curls and relaxes without any chemical treatments. What make it different and amazing is that you only need simple wash and care and they will naturally form in their own waves or curls after drying. Therefore, you can make two different style just in this hair extensions.
Body wave sew in hair
Body wave sew in hair always fit for any occasion. It especially works with anyone who want to add volume to their hair. Made from 100% unprocessed Vietnamese human hair, this kind of hair extensions will help you look naturally great and charming and easily blend with your own hair no matter what kind of braid base you make to install the sew in.
Together with body wavy, loose weave hair is also a bestseller in our market- hair extensions
As a wavy hair dreamer, you must have already found different ways to purchase a soft and fluffy wavy hairstyle. To help you achieve your wish easily, beside sew-in hair extensions, you can try wavy tape in hair extensions which is very simple to install.
This refers to tape-attachment method which is very effective to increase volume to hair and doesn't cause much strain to your natural hair. Nobody notices the invisible tape of this wavy remi hair, but everyone will see the great difference of your appearance. Tape in hair is really a good option for women!
Straight hair sew in
Needless to say, it's the most classic one in sew-in hair styles and colors. There is no exaggeration to say that straight style is never out fashion. It always claim its position on top trending hairstyles list over centuries. It's not difficult to see straight hair among celebs, even more and more celebs become a loyal fan of straight hairstyle. However, most of these long straight hairstyle is not from nature. They are hair extensions instead- the best and quickest way to get the change. Here is the picture of Ariana Grande with a ponytail extensions human hair
To get a long straight hair which looks natural and harmless to your real hair, sew in with straight hair is actually a smart choice. This kind of sew in hair weave styles will help women look younger, fashionable and modern.
Moreover, sew in straight hair is easy to make different hairstyle. Since sew in attachment method stay secure and safe for your hair, you can completely make different sew in hairstyles with straight hair liked mermaid braiding, put your hair in high ponytail, French and Dutch braid and other beautiful styles.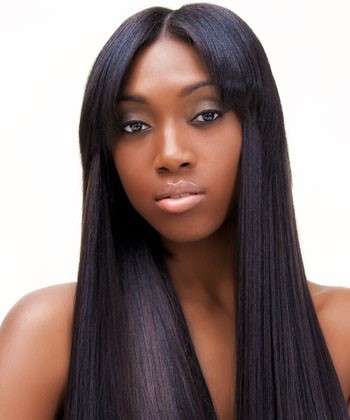 Read more: Sew in hair extensions pros and cons
Beside traditional middle part straight sew in hair style, this type of hair extension is gradually modernized to get the perfect appearance. Among these sew in hair extensions styles, side part straight hair sew in can be seen as one remarkable one which is now becoming very popular.
Sew in long straight hair
Sew in long straight hair is popular not only for it modernity and fashion, but also for the quality of product. In Luxshinehair, this texture is a bestseller since we only use human remy hair (hair cuticles are place in the same direction) which helps you to have a smooth hair without any tangle. Straight texture also goes well with short style and different types of outfits.
Kinky straight weave hair
Another type of straight style is kinky straight weave hair. Made from 100% Vietnamese human hair, the strand is soft and healthy and maintain longer than other products. It's also considered as a magical treatment to fine thin hair since it's will change 100% after installation. Traditionally, sew-in hair styles and colors of this hair extensions are black. However, it can go for many other shades. If you want to know more, keep reading.
Our products are always on top of best-selling products in international hair market. Luxshinehair commits to providing our beloved customers the best kinky straight hair with the competitive price.
Hair ponytail extensions
As we mentioned at the beginning of this section, besides sew-in hair extension, hair ponytail extensions are also popular in sew-in hair styles and colors for its beauty and simple installation. The only one con disadvantage of this style is that you can't put your extensions down. That means you only can style your hair with a ponytail base. However, there are a variety of braiding styles that you can apply to your natural hair ponytail extension.
Straight ponytail extensions is also a favorite hairstyles of celebs which is a live proof to the fact that straight style will never run out of fashion. If you are a sporty and dynamic girl with street style, this ponytail hair extension definitely your destination. Imagining you walk down street with a cap showing your long straight ponytail shining under sunlight and a pair of sunglasses, there is only one word to describe: gorgeous! Half wig ponytail is also an excellent choice!
See more: What Do You Want To Know About Middle Part Sew In Styles?
Sew in colored hair extensions
Beside texture, color also plays an important role in deciding the beauty of your hair extensions. This magic colored hair extensions exactly a century invention for all girls who like color hair. As a recent research that we already found, more than 70% women like coloring their hair but still worrying about the damage that chemical will give to their natural hair. That's why sew-in and other hair extensions appeared to change the beauty!
In this post, we will give you a sew-in hair styles and colors list with variety of shades for any circumstances such as daily life, prom, event, etc. We bet that you will become the center of the crowd with them. 
Let's get started!
Red hair sew in
There is no denying that red color should be one of the most impressive one. This kind of color easily catches people's attention no matter where you are, it always makes you outstanding. To get red color perfectly, you must bleach your hair a few times to make sure that the color blend equally to every single strand. Therefore, it takes time and of course damage your hair. Using red sew in hair extensions should be better.
Red hair sew in
Sew in black hair extensions
Black color never loses its position in top trending color of all time. Rocking a black hair will help you look younger and more elegant. Moreover, black easily matches different types of clothes than other color and saves your time standing before mirror choosing which style is suitable with your hair every morning. Besides, the black from 1b weave color is 100% natural without using any black dye.
Black color goes well with different texture, especially curls. Black curly hair extensions of Luxshinehair are the bestsellers which always receives excellent reviews from customers. If you want to have a long black curly hair, 22 inch hair extensions to 28 inch hair extensions should be your option.
Ombre sew in hair extensions
Instead of playing safe, we add ombre tone (especially this silver tone) in sew-in hair styles and colors list so that you can rock your hair fantastically. 
Considered as the most unique and catchy color, ombre with its own mix creation will definitely satisfy you. As a big fan of half-mixed colored hair, Luxshinehair advised you to try sew-in hair extensions instead of dying your hair directly since it's quite risky. To achieve the right and impeccable color, it depends not only on stylist's skill, but also on the quality of colors, bleaches and your hair as well. To avoid big damage, hair extensions are much safer and nicer.
Brown hair sew in
Among sew-in hair styles and colors, brown brings an elegant and attractive look to women. This leads to the increase in demand of brown hair extensions. It's quite hard to say that brown is the best color ever, especially brown curly weave. However it's true to say that brown is an extremely beautiful one.
Brown can be divided into dark brown and light brown. Light brown hair extensions are shinier, especially under sunlight. This shade of brown goes beautifully with wavy texture. However, if you try to get both wavy texture and light brown color with your real hair, it will be a big trouble. Therefore, using light brown wavy hair will protect your natural hair and bring you the perfect light brown color. Light brown hair weave is easy to install and remove.
Another popular shade of brown is dark brown which is sweet and sexier. Like light brown, the combination between dark brown color and wavy texture in dark brown wavy hair sew-in extension is really gorgeous! Besides using sew-in method, you can completely use dark brown wigs from Luxshinehair to simplify the installation and save time.  The hair length of wigs is various depending on your require (shorter than 12 inch hair extensions to 30 inch hair extensions)
Wigs Body Wavy Dark Brown
https://luxshinehair.com/sew-in-human-hair-extensions-all-you-need-to-know/
Blonde hair sew in weave
Recognized as the one of the most trendy and impressive colors, blonde always makes people outstanding by its beauty. To gain this color, bleaching again and again is unavoidable which extremely do harm to your hair. Blonde hair extension sew-in is much better that Luxshinehair highly recommend you to try. This 20 inch hair extensions is amazing!
Besides using wefts, clip-in attachment method is also another good choice, especially with curly texture. No matter how short or long of hair extensions you want, only by "clipping-in", you already get what you want. Blonde curly hair extensions clip in really proves its power! Here is one example of 14 inch hair extensions in blonde color.
Luxshinehair always provides customers blonde clip in hair extensions cheap price!
Blonde lace frontal closure is also a bestseller in Luxshinehair. Made from 100% Vietnamese human hair, we always try to give our beloved customers the highest quality product with an affordable price.
Purple sew in hair extensions
As a unique, fashionable and trendy color, purple requires much time to get the perfect shade. And of course, you need to bleach your hair so many times.
That's why using sew-in hair extensions should be your first choice if you want to purchase this gorgeous shade of color. Purple is extremely shiny, catchy and dreamy as. It also has different shade and also can be mixed with other color to create ombre color.
In short, sew-in hair styles and colors are created to all women who want to get a brand new look. "Life isn't perfect but your hair can be". But remember to change your hair in a smart way, no damage, no destroy. Just protect it because your hair is your own natural crown that you will never take off.
Sew-in human hair extensions with different colors, textures and length will definitely meet your demands. Don't hesitate to see your change!
Luxshinehair is always proud to become one of the leading companies in exporting hair extensions with variety of styles. Just visit our website and leave us a message to get further advice and information.
Luxshinehair Import-Export Joint Stock Company
Add: No 68, Nguyen Co thach street, Nam Tu Liem district, Ha Noi city
Phone: (+84) 943 564 434
Email: beequeenhair@gmail.com