Wig hair extensions come in a variety of colors and styles. It might occasionally appear excessively thick for a natural appearance. Manufacturers do this so that you have more hair to choose from and style it any way you like. If your wig is thick, you should thin it out for a sleeker, more natural-looking appearance. In truth, thick hair doesn't look good on every face and can be challenging to style. For instance, thick wigs can make updos look artificial or hefty. For a wig that seems more real, many women opt to thin out their hair for this reason. 
However, not everyone is familiar with how to accomplish this, therefore in this blog, we will show you step-by-step how to thin out a curly wig to improve its appearance.
Preparing
When you want to trim a wig yourself, that is the list of tools you need to follow:
Scissors. 

Hair clips: split your hair into sections

Hairbrush: brushing out the cut hair.
How To Thin Out A Wig by Yourself?
Step 1: Determine Where You Want To Thin Your Wig
The first and most important step is to put on the wig and examine yourself in the mirror. Make a note of where you want the wig to be thinned and how the wig will look. This will help you get started with your task.
Step 2: Create sections to work 
Make a section of your hairpiece to divide the area of the wig you wish to work on. Place the front tooth of the comb or the precision tip on your scalp, then part your hair from the front to the rear of your head. As previously said, you should use hair clips to secure the portions while working.
Step 3: Get Ready To Remove
Hold a portion of hair between your fingers and cut it with the thinning scissors. Grab the whole thread with scissors as close to the root as possible. Then, while holding the hair portion, lay the scissors down.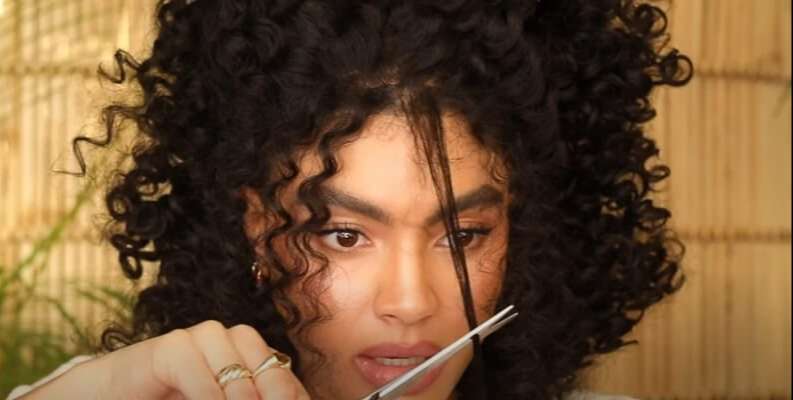 Step 4: Get Rid of Extra Hair
You comb through the hair piece you've held in your hands to eliminate the surplus hair. The comb collects a tiny bit of hair that has been liberated by thinning shears.
Step 5: Repeat the process and continue plucking.
Repeat step 2-4 should be repeated until all hair portions that need to be thinned have been completed. Finally, comb through your hair and style it if necessary.
Tips And Tricks
In thinning out a curly wig process, you might face some troubles that you concern how you do it well. Here are some tips and tricks we listed and hope that they will help you
Use thinning shears

: thinning shears are specially designed scissors with teeth on one blade and a straight edge on the other. They can be used to thin out curly wig hair without drastically affecting its shape. Simply snip little snips along the length of the hair, going from the bottom up.

Trim the ends

: If the ends of your wig are unusually thick, consider trimming them to produce a more natural-looking shape. Make little snips with a sharp pair of scissors, being cautious not to take off too much hair at once.

Use a hair dryer

: If you want to get a more voluminous, natural-looking style, blow dry your wig after you've thinned it out. To avoid damaging the wig, use a diffuser attachment and set the dryer to a low heat setting.
When thinning out your curly wig, remember to go softly and take your time. It's preferable to remove too little hair than too much because you can always go back and thin it out even more if necessary. Make sure you have easy access to the back of your hair or ask someone to assist you in looking around your head. Best wishes!
We hope this post How To Thin Out A Curly Wig is useful to you if you do this yourself. If you want to get decent wig hair extensions, don't hesitate to try Luxshinehair hair extensions. We always provide the highest quality hair extensions that are 100% manufactured of natural hair from Vietnamese women and are thoroughly examined before being delivered to consumers. Follow Luxshinehair.com for more details. Thanks for reading.