Wigs are used by many women nowadays for a variety of reasons. However, many are still unsure how to store a wig properly in order to extend its lifespan and maintain its original beauty. How should we wash our wig before keeping it? What environment is the best to store the wig? Luxshine will address all of the aforementioned questions in this post. Let's find out immediately by scrolling down!
What should you do to learn how to store a wig?
Washing your wig before storing

: Cleaning your wig on a regular basis before starting to store a wig is essential to keeping it looking as new as possible. Use a clarifying shampoo (for human hair wig) or a mild and wig-safe shampoo (for synthetic hair wig) every week or two to eliminate any product buildup or oil.
Drying wig after washing

: Treat your wigs the same way you would your own hair. This will decide how long your wig retains its original sheen and quality. Don't forget to fully dry it after washing it. It's much worse to have a wet wig in your closet. It will serve as a breeding ground for molds. Furthermore, it will draw in extra dust and pollutants.
Combing and using conditioner spray

: After you've dried your wig, just comb it to untangle it. Some people recommend doing this before washing the wig. So it all depends on how you want to go about doing it. They also recommend putting a wig conditioner on the fibers to keep them strong for a long time.
Tips for how to store a wig
Human and synthetic hair wigs are stored in the same way. So, there is no need to distinguish between the two. The only distinction you should be aware of is that synthetic and human hair wigs require different styling techniques. It's important to remember that synthetics should not be heated.
Reasonable arrangement of wigs
If you have more than one wig, organize them by color and frequency of usage to make them more accessible. For easy access, label each wig by length, color, and style.
Avoiding the direct sunlight
Make sure your wigs are kept out of direct sunlight and away from hot locations, no matter where you keep them. The color of the artificial hair will fade in the sun, and the hair strands may break down. If you don't keep them in a cold, dry place, they'll start to fall apart. Keep your wigs away from hot sources.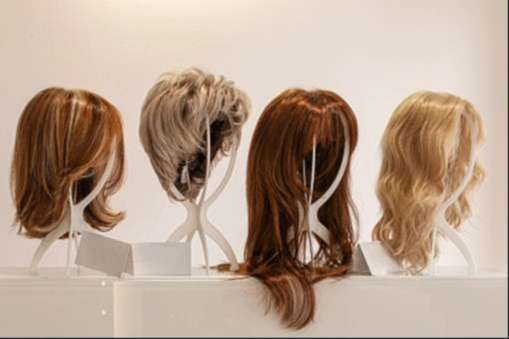 Temporary storage
If you rotate your wigs and utilize them on a daily basis, an ideal short-term solution should be considered. Using the original package of artificial hair is one of the better methods. If you require rapid access to your wigs daily, you can try storing them in wig boxes made specifically to maintain the hairpieces in form. You may name them using these boxes based on the style of the wig, color, and long or short length. Then, each day, choose your favorite, remove the wig, and you're ready to go.
Taking your wig on a plane
If you're going on a trip and taking your wig with you, make sure you pack it safely. It may be packed in a compact, robust box that will not be crushed during transportation. To keep it clean, place it first in a big Ziploc bag. If you frequently travel with your wigs, you can consider investing in a foldable wig stand, which you can set up and lay the hairpiece on immediately on the hotel dresser when you arrive.
Store wig for the night
If you exchange wigs daily, keeping them in their original packaging is preferable. The packaging it arrived in is specifically intended to keep the wig's form. You may stack them in your closet and store them there. The wigs will not be crushed by the original boxes, and you will save room in your closet.
It's totally OK if you've already tossed or misplaced the original packaging. A decent quality sealable plastic bag and a hairnet are worthwhile investments. Hairnet is essential in this situation to keep the wig in style. When buying a hairnet, make sure the size suits your wig.
Follow these instructions if you're wearing a short-hair wig:
Keep the style by putting a tissue inside.

Fold it from one side of the ear to the other (do this only if the wig has a central partition)

Gently cover the folded wig with a hairnet.

Store it in a plastic bag.
If you're wearing a long-haired wig, grip the tail, twist it gently, and blend it inwards. Later, follow the same steps as given for short-hair wigs.
Storage for a long time
If you're intending to store your wig for a longer period of time, you should clean and untangle it first. Fold the hairpiece in half from ear to ear and store it in its original packaging or a bespoke wig box until you're ready to wear it again. When storing wigs for a longer period of time, it is usually a good idea to select a spot for them that you don't use often so that they aren't disturbed and don't take up space with objects you use frequently.
What are tools for wig storage?
Hairnets
Hairnets are old-fashioned hair covers that ladies used to hold their hair in place. To preserve your wigs in excellent condition and style, you should invest in hairnets before storing them. Wigs can be placed on wig stands or mannequin heads and covered with a hairnet. This will preserve their natural appearance while also preventing them from accumulating too many dust particles. Hairnets may also be used to cover your wigs once they've been folded for travel.
Wig hangers
Wig hangers make storing a wig a breeze. If you don't have enough shelf space for a mannequin head or a wig stand, a wig hanger can suffice. They include a cap-like base where you can put your artificial hair and a lengthy hook to hang it in your closet. Make sure you have a spot in your closet where the wig won't be crushed by your things. If you're going to use a wig hanger, go to the back of your wardrobe where there's more space.
A wig stand or a mannequin head
Mannequin heads or wig stands can be purchased if you have enough room to store your wigs. These will assist you in maintaining the right style and structure of your fake hair. A wig head made of Styrofoam can keep your hairpiece appearing new and in good shape. These are small and portable, and they may be used anywhere. They're especially useful when you take off your wig at night and store it on the wig stand so it's ready to wear the next day. Both of them take up almost little space. If you don't have enough place on your closet shelves, you may buy wall-mounted shelving to make more area for your wigs.
Shoe-rack
It may come as a surprise, but the shoe racks that hang on the inside of your closet door are ideal for storing wigs. Simply tuck the wig inside the pocket in a gentle and suitable manner. The names of the hairpieces you'll be putting in the pockets will help you recognize them. They'll keep your wigs snug and protected until you're ready to put them on. The wigs will not be damaged and will not become dusty.
How the environment is suited to storing a wig?
You can keep your wigs in your closet if you have enough space. Keeping them on a shelf in the closet keeps them out of reach of youngsters and dogs. Wigs can be stored in their original packaging, folded gently in a plastic container, or placed in a box and placed on a closet shelf. If your shelves are too crowded, use wig hangers, but make sure to hang the wigs at the back of the closet so they don't get crushed amid the clothes.

Keep in mind that the appearance of your wig is only as excellent as the proper care you give it. As a result, always wash your wigs before storing them. Make sure to brush and fluff them back into the manner you received them in, and store them in a convenient location. Keep your wigs away from children and pets at all times. Remember that the wig you purchase is an investment since it improves your appearance. Hope that the guide about how to store a wig above will help you to use your wig many times. Thanks for reading!