Clip-in hair extension is a relatively easy product to use and handle. However, not everyone knows how to make them look sleek and discreet. To let your clip-in hair shine, it's important that you know and understand the product well. We recommend that you have a clear view of all the tricks and tactics you can use when using and hiding clips in hair extensions. With your tracks well hidden, you will be able to rock the best natural hairdo that you have always yearned for.
In Luxshine's post today, we want to guide you on ''How to hide clip-in hair extensions'' and five commonly made clip-in hair extension mistakes. Whether you are new to the hair extensions world or already a seasoned vet, these mistakes will cost you dearly. By being familiar with these mistakes, you can easily avoid these mistakes and enjoy your new look without fear.
How To Hide Clip-in Hair Extensions? 
Now, let's move on to the main point of this blog ''how to hide clip in hair extensions'' step-by-step:
Step 1: Choose the right clip in hair extensions
The secret to concealing clip-in hair extensions is to find the right color match. Make sure your extensions are as similar to your natural hair color as feasile. Most respectable hair extension manufacturers provide a wide range of hues, making it easy to locate your perfect match.
Quality is also important when it comes to clip-in hair extensions. High-quality extensions contain thinner wefts and more discrete clips, making them simpler to conceal. They also have a more natural appearance and are less likely to tangle.
Step 2: Determine strategy 
Determine the style you want to achieve with clip-in hair extensions. And then determine where you clip in your extensions. Do you want to add much length and volume with a number layer or short hair with some bright color as high light? Depending on your hairstyle, there are many strategies to achieve your goal. Although there is no common formula to follow, normally we will place the clip in the same position as in the picture below:
Step 3: Section your hair
Using a hairbrush or comb, create 4 horizontal parts in your hair just above the nape of your neck following the diagram above. Clip the upper section of hair up and out of the way.
Step 4: Apply Clip In 
To start the clipping process, you'll start attaching the extension at the lowest section. Take a clip, hold the weft with one hand, and use the other to open the clips by pressing down in the center of each clip. Make sure the clips are open and ready to grip your hair.
Align the weft along the part you, positioning it close to the scalp, and snap the clips shut by pressing down firmly on both sides of each clip. Covering the clips with the natural hair of the higher layer is the best way to camouflage them.
Open the clips again, arrange the weft, and snap the clips close. Continue in this process, working your way up, until all of the desired wefts are joined.  
Step 5: Blend and style hair extensions
In this step, we will see the transformation of your hairstyle. Layering your natural hair over the clip-ins is an effective way to hide them.
Once all the wefts are securely in place, comb or brush through your hair to blend the extensions with your natural hair. This helps create a seamless look.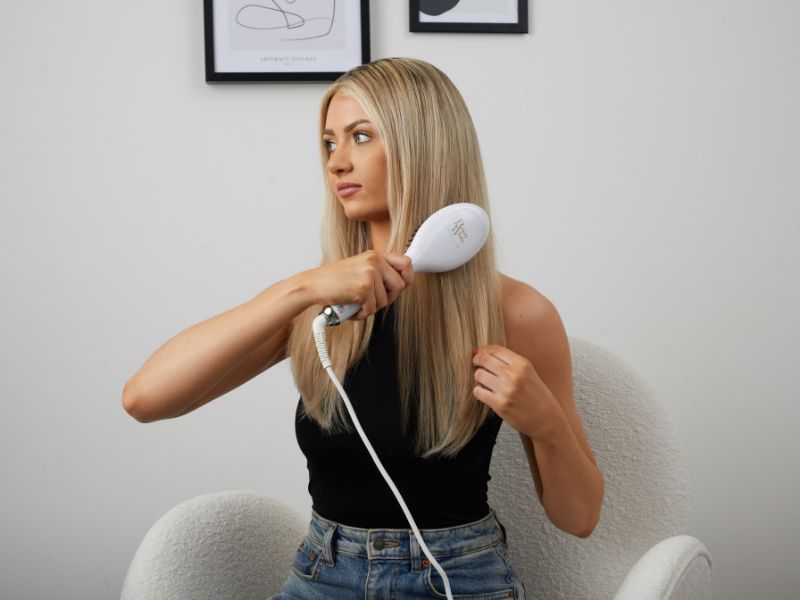 Style your hair as desired, whether you want to curl, straighten, or add waves to the extensions, and your natural hair can also be used to conceal the extensions. You can also cut the extensions if they are too lengthy for you.
That's the end of the hiding clip-in process!
Mistakes When Hiding Clip-in Hair Extensions
There are some common mistakes that you could make in the clipping process. Let's see what it is: 
1. Too many or fewer tracks is also not wisdom 
Most hair manufacturers sell clip-in hair extensions in sets (7 pieces per set). This means there is usually a recommended amount of tracks for a whole head. Usually, when you get too ambitious and install more hair than usual, you risk letting people know that you are wearing something artificial.
There is nothing wrong with wearing hair extensions of any kind, for whatever reason. While there should be no stigma around enhancing the look of your hair, your results should be your main concern. To get the best hair results, be sure to keep your number of wefts reasonable. Too many or fewer tracks compared to what they need is also not wisdom.
2. Put the clip too high up
The way you position your hair extensions will also determine whether the clips are exposed or not. Be sure to distribute their positions evenly so they can be hidden. This problem can be even more prominent if you park most of the clips at the top of your head. Now, this is the fastest way to create an imbalance between the top and bottom parts of your hair.
When too much hair is clipped up top, not only does the top look voluminous unnaturally, it can also cause tension issues and make you feel like you got the bad kind of clip-in hair extensions.
If you find yourself in this situation, simply recognize the issue and then slowly build up the hair layer from the bottom.
Instead, clip them a little lower, so you have more of your natural hair to cover them. Remember to follow the position placement guidelines that we mentioned earlier. 
3. You get too adventurous with your technique
Sometimes we want to change things up and create a new, marvelous style with our beloved sets. But more often than not, this is not a good idea. From our experience, there is only so much style suitable for clip in hair, and these products don't always allow for the best hair mobility. This is why, whether your goal is to add more length or volume, you should absolutely stick with a proven routine that has worked for you in the past.
Even though this might mean that you don't have a new exciting look, when you stick with a step-by-step precise approach, you will be able to meticulously hide all of your tracks and avoid any possible clip-in hair extension mistakes. After all, if it's not broken, don't fix it!
4. Forget to provide your hair clip with a good foundation to grip onto
Sometimes, we feel like something like this is too obvious, but not so with newbies. If you want the most secure hair clip, you should make sure that they have something great to hold onto. This usually means you have to tease the root and backcomb the hair so that your teased hair is the "meat" that the hair clip can easily attach to.
Without something substantial to hold onto, your hair might slip out unknowingly. This is why we can not stress enough the importance of backcombing. After all, getting a hair clip to fall out in any social setting is not a desirable outcome.
5. You wear hair extensions on your greasy scalp
A greasy scalp, which is a scalp that overproduces sebum is not a suitable candidate for clip-in wefts. If you have too much oil and sebum in your hair, you have to do away with these hair extensions. The oil and greasiness would defeat the purpose of clipping extra hair onto your head.
This is why clipping them on a greasy scalp can be one of the many clip-in hair extension mistakes. For people with naturally oily scalp, they should prioritize a sebum control method before touching their beloved clip-in kit.
Conclusion
In this blog post, we'll show you how to hide your clip-in hair extensions properly while also outlining five typical mistakes to avoid. Our goal is to give you the confidence to apply these extensions yourself and obtain a faultless finish. If you have any questions or are interested in adding length, volume, or thickness to your hair with clip-ins or hair extensions, please contact us.
Luxshine Hair provides a high-quality range of human hair extensions that are not only heat-friendly but also reusable, making hair makeovers simple and painless. Visit our website, to see our excellent clip-in extensions made from lovely Remy human hair, or simply contact us via WhatsApp (+84) 862 114 858 for specialized assistance!
Your next read: Best Clip-In Hair Extensions