Hair extensions have revolutionized the world of hairstyling, giving individuals the ability to instantly transform their look. Among the wide variety of hair extensions available, 18 inch extensions hold a special place for their versatility and natural look. In this blog post, we will discover the world of 18-inch extensions, discussing their visual impact, popularity, and the 5 best styles – snaps, invisible curls, hair extensions. horizontal, I-hair, and extension ponytails. Fasten your seatbelt and take off!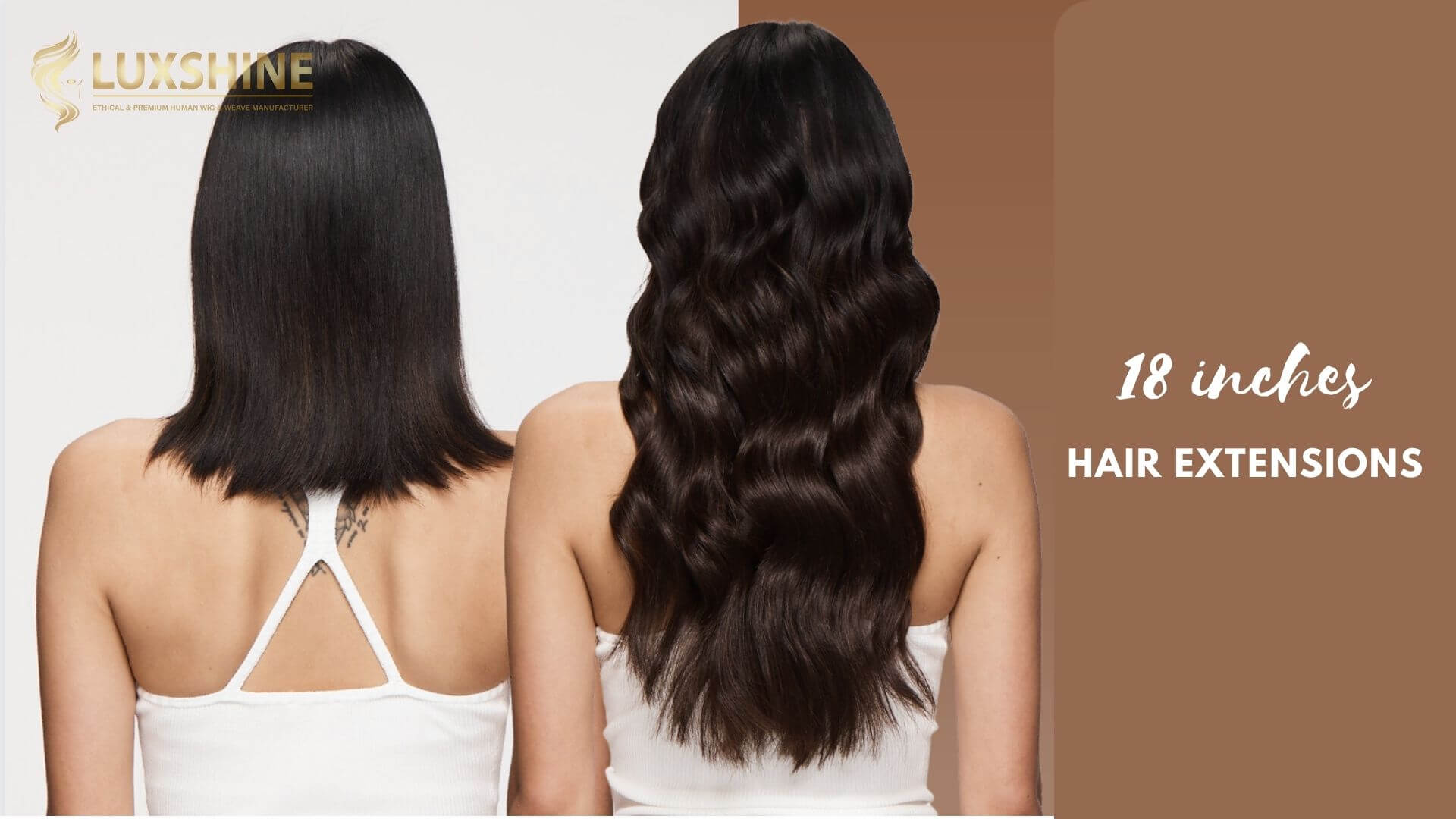 How long does hair extension 18 inch look?
An inch equals 2.54 centimeters, and 18 inches are neatly equivalent to 45 centimeters. An 18-inch hair extension normally falls just above the bust line and reaches toward the center of your back, if not shorter. This specific length is widely regarded as ideal for most people because it adds significant length while feeling both appealing and useful. This length allows you a variety of styling options, whether you prefer cascading waves, elegant updos, or simply leaving your hair down for a free-flowing aesthetic. Moreover, 18-inch extensions tend to mix in with natural hair flawlessly, making it impossible for others to tell the difference.
How much weight should my 18 inch hair extensions be?
For human hair extensions, a full set of 18-inch extensions could weigh between 100 and 150 grams. This is an approximate number, and the weight will vary depending on the density of the hair, the brand, and other things.
Are 18 inch hair extensions expensive?
The cost of 18 inch long hair extensions is determined by the quality of the hair as well as the cost of each type of hair extension. The cost of 18 inch long hair extensions is determined by the quality of the hair as well as the cost of each type of hair extension. However, 18 inches is a normal length, so a number of donors could donate. For this reason, the price of 18-inch hair extensions does not break the bank.
The quality of the hair
Luxshine Hair offers different types of quality hair, including Standard and Luxury hair:
Standard Hair: the price ranges from $50 to $120 per bundle.
SA (Standard Single drawn): contains a specific number of short hairs with a thin end; lowest price
SA+ (Standard Double drawn type 1): standard has a thicker end but still contains fewer short hair strands; the price is a bit higher
SA2+ (Standard Double drawn type 2): much volume and a thicker end
SA3+ (Standard Super drawn): all the strands are nearly the same length, full, and thick at the end. The highest price in this category
Luxury Hair: The hair strands are thicker and healthier, and they could bleach and dye the hair to achieve a #60 or platinum color. Healthy. The price is more than 10% higher than the standard type, which normally ranges from $100 to $150 per bundle.
LA2+ (Luxury Double drawn): contains fewer short hair strands and is thicker at the bottom
LA3+ (Luxury Super drawn): the most luxurious standard and the highest price.
Top 5 best hair extensions 18 inch
18-inch Seamless Clip-In Extensions
These extensions are made to be simple to apply and remove. The seamless design offers a discrete connection that blends in with your natural hair. You may produce a full-bodied look with just a few properly placed wefts when using 18-inch seamless clip-in hair extensions.
18-inch Invisible Tape-In Extensions
Invisible tape-in extensions are a great option if you want a natural look that lasts for weeks. These extensions' tape is used that adheres close to the scalp, providing a lightweight sensation and good movement. The 18-inch length provides fullness and length while being comfortable.
18 inch Genius Weft Extensions
Genius weft technique involves attaching the hair to a silicone line, allowing for safe and discreet use. This method is ideal for thinner hair as it gives a natural look and can be easily covered up. Excellent 18 inch weft extension effectively improves thickness and length.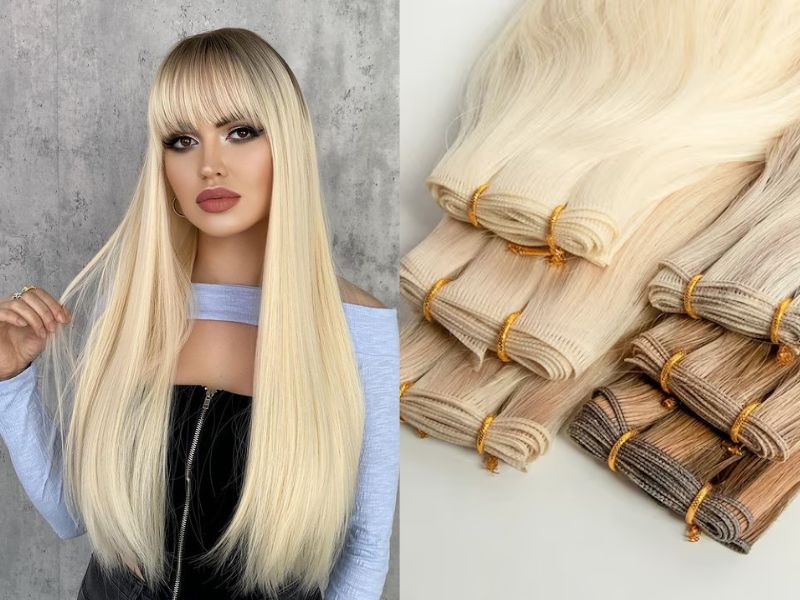 18 inch I-Tip (Pre-Bonded) Extensions
This is ideal for a semi-permanent option, the I-head extension is mounted using small, individually bond sections without the use of heat or glue. The 18-inch length gives you a lush mane that can be styled in a variety of ways. These extensions provide longevity and a natural finish.
18 inch Ponytail Hair Extensions
Sometimes, if you want to switch up your look wit18 Inch Hair Extensions: hout covering your entire head, 18-inch ponytail extensions come to the rescue. You could add length and volume instantly with them without waiting for hair growth or using glue or heat.
The allure of 18-inch hair extensions lies in their ability to strike the perfect balance between impact and ease. They offer a noticeable length increase without overwhelming maintenance demands. As one of the most popular extension lengths, 18 inch options have garnered a loyal following for their versatility and natural appearance. Among the top picks, seamless clip-in, invisible tape-in, genius weft, I-tip, and ponytail extensions stand out, each offering a unique approach to achieving the desired length and style. With a myriad of application methods and styles to choose from, these extensions empower you to express yourself and embrace a new level of confidence in your appearance. So, why wait? Contact Luxshinehair to get these mesmerizing extensions via the website: luxshinehair.com or Whatsapp (+84) 943 564 434 right now.
Read next: How To Choose The Best Hair Extensions Supplier UK