How to take care of a wig is a concern of many people. Yes! In this era, beauty is focused and especially the wigs and hair extensions. Not only celebrities but also women and men wear wigs in an obvious way. Buying a wig is not cheap, so knowing wigs care is your strength.
There are two main types of hair to create a wig that is synthetic hair and human hair. Both hair types are completely different, so they will have different ways of caring and preserving. So first of all, you need to distinguish them clearly so that you can have the right ways to take care of wigs made from the above two types of hair.
The differences between synthetic hair wig and human hair wig
Synthetic hair wig
Human hair wig
Advantages
·       Synthetic hair wigs have good style retention and are very convenient

·       Does not react to changes in weather

·       Good color retention

·       Low price

·       Does not need much maintenance

·       Can be styled, curled, and dyed flexibly

·       Each human hair wig will have different good quality

·       The life of the wig is longer if cared for properly, at least more than 1 year

·       The wig will give you a natural look and it is not easy to distinguish between the person wearing the human hair wig or not wearing it

Disadvantages
·       Has a high shine so it does not look natural

·       Unable to style variety

·       Cannot change hair color

·       Short lifespan

·       Needs regular styling and washing as it is made of human hair so it needs high maintenance

·       The cost is usually more expensive

·       Because it is collected from the hair of many people, the level of coloring after dyeing will be different, so the wig will be difficult to color correctly.

·       After dyeing, just like real hair, human hair wigs can be oxidized, leading to fading of hair color when exposed to sunlight.

·       When the weather changes, wigs will have certain reactions

·       Styling many times will lead to damaged hair
What type of hair will make a quality wig?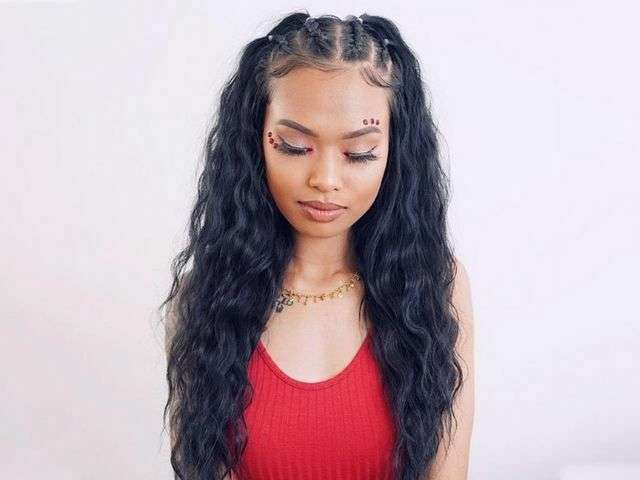 From the above comparison, you will see that human hair will have many advantages over synthetic hair. Therefore, human hair wigs will be more durable and have higher quality wigs.
How to take care of a wig
Wigs care from synthetic hair
Synthetic wigs always have a unique style and are difficult to restyle, so you need to know how to care for a synthetic hair wig. Washing wigs in the correct way is necessary to be able to use them many times.
How to wash a wig from synthetic hair
You comb the wig before washing to remove tangled hair.
You mix the shampoo in cold water and dip the wig in the water. For wet hair, you should soak for about 1-2 minutes and shake gently.
Use your hands to glide over the hair and the wig cap carefully. Wash gently and do not rub vigorously.
Rinse hair with cold water.
Use a towel to gently pat your hair.
Apply a little conditioner while the hair is still damp, then rinse with cold water.
Take a hair towel and dry it on a wig stand.
Note: Do not apply strong force on the wig, do not expose the hair to direct sunlight for many hours, do not use heat tools such as hair dryers.
You just need to follow the steps above to know how to wash a wig at home. It is very simple and economical, isn't it?
How to take care of a wig from synthetic hair
– Use shampoos, conditioners, and care products specifically designed for synthetic hair.
– Always be gentle with the wig.
– Regularly wash your hair (after about 20 wearing times or every 3-4 weeks).
– Brush the wig hair before washing to untangle the hair and remove the glue that remains on the hair.
– Use wig care products regularly every week to restore their original look.
– Air-dry hair for healthy-looking hair.
– Combined with styling tools or included specifically for wigs such as wig caps, wig combs, etc.
– Exposure to heat. For example, the sun, heat styling tools, dryers, etc.
– Comb your hair when it is wet.
– Rub a lot into the hair, or squeeze, twist the hair.
– Style while your hair is still wet.
Wigs care method from human hair
1.    How to wash human hair wig
Step 1: Use a wide-tooth comb to untangle or you can use your fingers to start from the bottom to the hair roots.
Step 2: Getting your hair wet is the next step. Place your wig under the faucet and completely immerse it in cold or lukewarm water and use a small amount of shampoo to massage gently. After rising, carefully squeeze out any extra water with your hands. Take it slowly and do not twist to wring it out.
Step 3: Now it is time to condition. You will want to use a wig-approved moisturizing conditioner, just like the shampoo. You should begin at the bottom of the wig with your fingers, then gently comb over the strands, keeping the conditioner away from the wig's base. Most conditioners may be left on for one to five minutes, but make sure to follow the recommendations on the conditioner bottle. After that, you run cold water from the top of the wig down to the ends of the strands, ensuring that all the conditioners are removed before blotting it dry.
Step 4: Now that you have cleaned your human hair wig, all you have to do is wait for it to dry. Blot it softly with a cloth before letting it air dry on a wig stand. Until the wig is totally dry, avoid using a blow dryer or combing the hair. You may style your wig as usual after it is no longer damp.
The 4 steps of how to wash a human hair wig above are also the way of how to wash a lace front wig. However, there is one point you need to pay attention to that is to clean the lace to avoid itching for the next time you wear the wig. If someone asked you "can you wash a wig", you would have the answer, right?
2.    The guide to caring for a wig from human hair
Make sure you use the shampoo, conditioner, and comb for a wig or products of natural origin that are safe for wigs.
It is preferable to have your wig styled by a professional; several salons specialize in the maintenance and styling of wigs.
When you are not wearing a wig, keep it in a mannequin or on a hanger of some sort so that it stays erect and doesn't become tangled. Also, keep it covered to avoid dust.
When styling your wig, be in mind that heat may be quite damaging! Make sure not to use too much of your human hair wig that is similar to care for synthetic hair wig. Always read the directions that came with your wig to determine how much, if any, heat you may use.
Also, never shower with your wig on, and take it off if it is raining too hard. The sleeping, on the other hand, you do not want it to become all tangled up and knotted up from all the moving around at night.
Wig care recommendations for a natural look are a popular area of research, and having a natural-looking wig can be crucial for many wig users. Finding a wig that matches your skin tone is the greatest approach to getting a natural appearance. A wig that is too dark might make you seem washed out, while a wig that is too light can look unnatural and reveal the fake hairline. Most individuals are aware of their natural hair color and believe that staying as close to it as possible is the best approach to maintain a natural appearance.
Through this Luxshine post, you have known how to clean wigs and home wig care methods. When you have an adorable and durable wig, you will be more confident and radiant.