Are you looking for a quick remedy to grow your natural hair longer, thicker, or to add some bright highlights? Think about using tape-in hair extensions. If you are new to the world of hair extensions, chances are you feel overwhelmed by the disconcerting stories you've heard about them. For example, it's widely held that permanent hair extensions, particularly those that use glue for installation, such as tape-ins, might injure your hair, causing it to become fragile and thin. Is this genuinely correct? Continue reading, and we'll address your worries and explore ways to limit the tape in extensions damage.
What makes us love tape for hair extensions?
Tape in hair extensions is made of 1-inch-wide sections of hair sewn into strips of tape. They are taped into your hair about an inch away from the hairline, and a backing of the same tape is applied at the opposite end, creating a sandwich-like pattern with your natural hair. No special tools, chemicals, or heat are needed. As a result, tape-ins will do less damage to the hair than other types of extensions. Tape in extensions can be applied in less than an hour, so you can drastically cut down the application time to achieve the perfect hair you always wished for. Once done well, they will naturally blend with your existing hair for a seamless look.
In addition to their ease of installation, tape in hair extensions are among the most versatile types of hair extensions. They allow you to pull the hair back without worrying that the tapes are visible. They can even be worn while exercising or swimming, thanks to the strength of the bond. If you ever decide you are ready for shorter hair again, tape in hair extensions can be easily removed without causing any damage to your natural hair.
How long do tape in hair extensions last?
Ideally, tape in hair extensions can stay attached to your hair for between six and eight weeks. But in fact, you will need to go back to the salon to have them reapplied in between four and six weeks. It's because when your hair grows, the extensions will grow with it. That makes extensions start to be noticeable. At that time, you might have to adjust the tape-in bond to the appropriate length, which is 1/4th of an inch from the scalp.
You can use the same set of hair extensions up to three times before they need to be replaced. This means that each set will typically last between three and five months before you should consider purchasing a new set. 
Read more: How Long Do Tape In Extensions Last?
Does tape in extensions damage?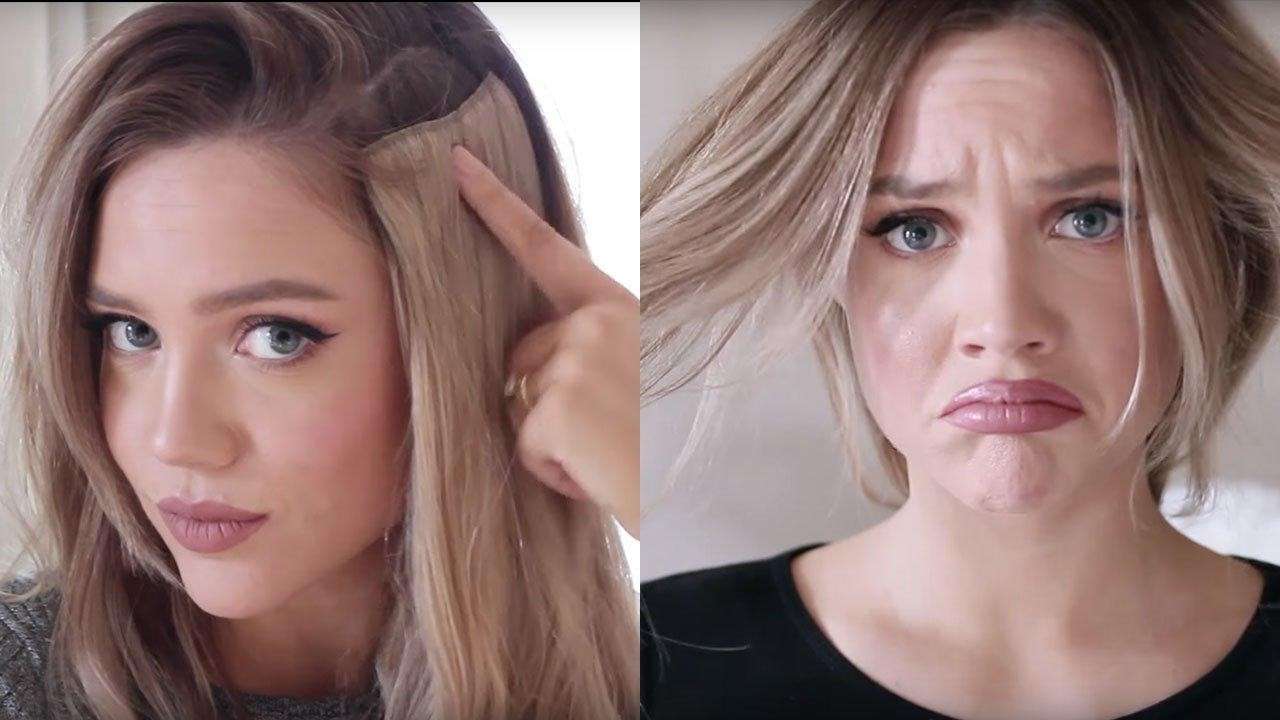 So you want to get tape in hair extensions? You have read every single article about different kinds of hair extensions, and now you have made up your mind. Tape in hair extensions are exactly what you are finding. However, there's one more question that might have been bugging your mind for a while: Do tape in extensions damage your hair? Do tape in extensions ruin your hair?
Here is good news that should help you be 100% sure of your decision: hair extensions in general and tape-ins in particular don't damage hair. But they can cause damage in the wrong hands!  
Believe it or not, the no.1 reason for tape in hair extensions damage comes down to application. Application must be done properly to ensure proper hold. Using a trained extension specialist is key. If your hairdresser has not been skilled correctly in the technique, your good hair day can slip into a foul one in a short time. Not only that, the wrong application may cause serious damage to your hair, such as hair loss, bald spots, etc. Therefore, it's highly recommended to get professional help for the correct application. 
Common tape application mistakes 
Tape in hair extensions could glam up your hair but only if things are done right. There have been unfortunate situations where some ladies who have opted for tape-in extensions have made some mistakes. For them, the results were unsightly and that's why we are going to highlight for you some common tape-in hair extension application mistakes and how they can easily be avoided.
Improper installation technique 
When it comes to applying tape to hair extensions, there are two distinct methods: sandwich method and single method. With the former, your natural hair is put between two taped hair extensions. With the single method, one tape weft will attach to your hair.
If your hairstylist chooses the wrong method, it can be very damaging to your natural hair and cause it more prone to break. 
Poor placement
This is another common mistake that people installing tape in extensions usually make. The placement of the extension on your hair will have an influence on whether the whole installation is a success or not. Applying the extension too close to the scalp often brings with it a number of bad things.
One is that if they are applied too close to the root of the natural hair, there is usually no room for movement between the tape-in extension and your natural hair. This, in turn, causes buckling and tension in the hair. That means the extensions could be painful and won't last as long. The best position to place the extension is about a quarter or half of an inch from the roots of your natural hair. This is the ideal distance for the hair to naturally fall. 
Either applying too much hair or too little
You might think that the more hair you put between tape sandwiches, the more secure the extensions are. But in fact, the opposite is actually true. Applying too much hair in between the tape wefts will prevent the tape tabs from attaching to each other, making it slip out. Again, there would be a problem when too little hair is being applied. Not only can this cause the extensions to slip out, but the weight of the extensions can damage your natural hair because it doesn't have enough hair to support the weft. 
How To Prevent Tape In Extensions Damage? 
Choose the right technique to apply
The incorrect application technique may cause hair damage. If you have thin and fine hair, you should use a single-sided approach. This approach is intended for persons whose natural hair cannot support more than two wefts. This reduces the danger of hair damage by removing the chance of the extension putting a lot of weight on your thin and fine hair. If you have thicker hair, the sandwich approach is great for you.
Choose the right placement 
It is best to carefully arrange the location of each piece of tape to expedite the procedure and ensure appropriate placement. You should decide where to put the tape-in hair extensions and gather your hair into an updo. The tape is usually applied to the scalp in four main rows. The accompanying image provides a visual guide for where the tape should be placed. These four rows are made up of tape-in pieces numbered 2, 3, 4, and 5 that are positioned progressively from the nape of the neck to the crown of the head.
Apply a suitable amount of tape to the hair
It's critical to find the correct proportion of tape-in hair extensions. It's critical to examine your natural hair condition and determine how many tape-ins to use. If you want to add volume, consider using 20-40 tape-ins (50-100 grams) for a moderate boost. Choose 40-60 tape-ins (100-150 grams) for thin hair that needs additional volume. It is critical to avoid using more than 200 grams of tape in since this can result in an artificial look that is immediately evident.
In the nutshell 
That said, tape in hair extensions can be a life-changing solution, especially for those with severe hair loss problems or naturally thin hair. The best thing about them is that you may get as many or as few as you want, at any length you choose. Luxshinehair believe you will know what to do after learning about typical tape application mistakes and how to prevent tape in extensions damage. If done correctly, tape-in hair extensions are completely damage-free. So, ladies, look stunning with these tape in hair extensions because you deserve it!
Next post: How To Wash Tape In Hair Extensions?