If you are fed up with your boring long hair, it's time for you to renew your hairstyle. If you are still hesitating whether you should cut your hair or not, just do it because this thought of having short hair will never disappear if you don't realize it. "Life is too short to have a boring hair". It is always true that short hair creates an eye-catching look which instantly earn the highest style point.
In this post, Luxshinehair is going to show you short hairstyles of celebrities in the world which will definitely inspire you. Let follow us till the end coz we are sure that you can find one gorgeous hairstyle for your own.
Emma Stone's Bob
Bob hairstyle is becoming popular all over the world and is loved by many celebs including super star Emma Stone. Combined with bronze color, this hairstyle make your face look pretty shinier. If you have an oval face like Emma Stone, bob hair with thick bangs help her face look a bit rounder.
Katie Holmes rounded bob
It is no exaggeration to say that bob hair can be ranked the first in most favorite hairstyles of celebrities in the world. This hairstyle work best on heart and oval-shaped faces, and square faces as well if bob is angled slightly. Katie Holmes has a heart-shaped face with pointy chin, so this bob with side-swept bangs will help her look pretty cool and attractive
Lily Collins pixie cut
The pixie haircut is considered as the cool-girl hairstyle of Hollywood and Lily Collins is not the exception. It is no difficult to recognize that Lily's hair become shorter and shorter over the years and finally she makes a drastic change with the debut of her new pixie cut. Say good bye to a long boring hair, Lily Collins shine up the red carpet with an attractive hairstyle.
Read more: Charlize Theron hair
Emma Watson slightly curly bob
The most favorite actress from Harry Porter always stands out with fancy haircut. Light brown color combined with slightly curly hair helps her easily grab all attention. This kind of hairstyle can go with different styles of clothes which make it easy to combine make-up. This new hairstyle of Emma Watson create a new trend in haircut, especially among her huge fans all over the world.
Selena Gomez middle part
Selena Gomez always changes her hairstyle, no matter how length, color and texture the hair is, she can easily pull anything off. With this hairstyle, she is definitely a source of short hair inspiration. With this middle part short hairstyle, she looks so stunning and gorgeous. It even help us to think about a baby doll in the real life
Talor Swift chin-length bob
At the 2016 Grammys, pop-country superstar Taylor Swift make everyone surprise with a new, blunt chin-length bob. With the bangs curled in slighly, this hairstyle help her look much cooler. Right after Talor Swift appeared at Grammy, her new hairstyle created a new hot trend until now among fans and other celebs as well.
Yara Shahidi's natural lob
Actress Yara Shahidi who is best known for her award-winning role on the ABC sitcom Black-ish. Shahidi has a lot of things figured out way before people, and her beauty is just one of them. Shahidi's short deep curly fluffy hair is one of her beauty's highlight and easily helps her unique and outstanding. Combined with black color, natural lob is exactly a must-try short hairstyle
Miley Cyrus shaved side pixie
Miley Cyrus- one of the most famous actress and singer in the world is always grabbing all attention no matter where she is by her fancy unique style and her unique pixie which her spend quite much time to care. With this pixie, all the length is on one side to show off her shaved part which is very cool and sexy. She keep the shaved side in natural color and dye the length with blonde color to make a highlight for her hair.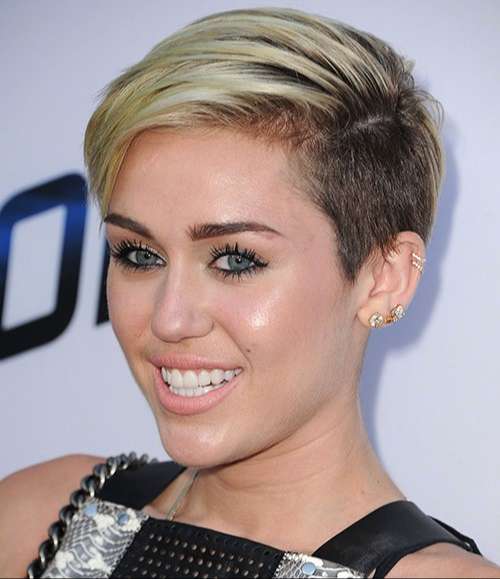 View more short hair extensions: 8 inches hair extensions
Victoria Beckham layered hair bob
There is no denying that bob hair is becoming one of the most popular hairstyles of celebrities in the world. Among them, Victoria Beckham can be known as the most famous super star rocking short layered hair bob remarkably. Combined with blonde color and a little bit natural messy hair, this hairstyle help her look much cool and fashionable as she always is.
Priyanka Chopra's voluminous lob
Voluminous lob is one of best hairstyle for short hair ever since it help hair look much fuller, natural, fluffy and easy to match with different shape of face. Priyanka Chopra's voluminous lob is a great source of short hair inspiration for anyone who want to have a short haircut. The dark brown color and style of make-up create a sweet and attractive appearance for Priyanka Chopra, make everyone stick their eyes on her no matter where she appears.
See more: Short haircuts for thick wavy hair
Sanya Malhotra's French-chic curls
Those who want to have short hair which make them look cool, French-chic curly hairstyle should be their first option. It is also the favorite hairstyle of Sanya Malhotra- a famous Indian actress. This hairstyle with stubborn curls bring her a strangely wild beauty which easily grab all attention from other people. Besides, a pair of leaf earrings together French-chic curls really make a highlight for her face. French-chic curly hair is definitely a must-try hairstyle for cool girls.
Evan Rachel Wood pixie
If you are still hesitating whether you should cut your hair nor not, just do it like Evan Rachel Wood. She has never been afraid to make a daring move. Instead of keeping her long and smooth locks, Evan Rachel Wood said good bye to it by a chopping off inspired of short summer, turning a long blonde hair into cool short pixie which helps her look even more chic than before. If you think pixie which make you masculine, in fact the result is completely surprising.
Christina Hendricks's curly asymmetrical haircut
Christina Hendricks's curly asymmetrical haircut definitely make a strong impression on anyone who are looking for a short hair style with curly texture. The bulk is removed off the back and the length of the front hair is kept to create curls. It is such a great combination between a bob style and curly bangs, especially when go with burnt orange color. This hairstyle and color will help Christine Hendricks's face look brighter and attractive. Curly asymmetrical haircut is becoming increasingly popular among celebs in the world. This gorgeous and smart short haircut should be the first option of anyone who want to purchase a unique beautiful hairstyle
The short hairstyles of different celebrities above are definitely a source of inspiration for anyone who is finding a hairstyle to renew their appearance. Don't hesitate to do what you like. Don't hesitate to change your old appearance.
Luxshinehair hopes that through our post, you can get some motivation to get a chopping off. Say good bye to your old fashion hair and rock an unique style like super star in the world!
Discover more about short hairstyles of famous women like Monica Brown, Meagan Good or long hairstyles of celebrities to have more interesting suggestions for your hairstyles.