If you're someone who loves a relaxed and effortless hairstyle, then you're probably already a fan of the messy bun. This versatile hairstyle can be used in a variety of different ways, from casual to formal occasions, and it's perfect for those days when you don't have time to wash your hair. But did you know that there are many different versions of the messy bun? From the classic top knot to the low chignon, and everything in between, each version has its own unique charm and style. In this blog post, we'll be exploring the different ways to create a messy bun, so you can find the perfect one for your hair type, face shape, and personal style. So, let's get started!
Messy wrap-around bun
Even if the hairstyle is unkempt, we must first make it tangle-free and smooth. This technique will assist you in creating a faultless bun. Simultaneously, if there are knots inside, you may injure your hair and scalp. Of course, wasting time trying to untangle them is not an option. As you can see in the photo, we divide our hair extensions  into two sections, including the long bang and the ponytail. You can, however, tie all of your hair up. You can set it as high or low as you like, depending on your preference. Divide the ponytail into strands (depending on the thickness of your hair, but at least three). Then, wrap them around the elastic band in a symmetrical fashion. To achieve a truly sloppy bun, pull them out slightly.
If you let the lengthy bang alone, you can change it into an excellent look. We will present you to two types. The first is known as the sleek bang. Simply spray it with hairspray, comb it completely, and pin it under the bun. A fashionable hairdo is created by the contrast between the tidy front and the chaotic back. The second one is younger and cuter. Make a braid out of your bangs, pancake them, and tie them under the bun. Now, we've done it!
Loose messy top knot
This haircut appears to be an accident, but it does require some work to achieve the desired look. Elastic bands, bobby pins, a comb, and hair spray are all required.
First and foremost, untangle your hair extensions with a comb. Then tease it by stroking it back from the ends of your hair to the roots. You should just concentrate on the roots. After that, smooth your hair again and construct a loose high ponytail. You'll notice a bouffant has appeared in your hairlines. It's preferable to leave some strands out to frame your face and soften your appearance. Twist and roll the ponytail around the elastic bands. Before you fix it, tug it to loosen the bun for a disheveled hairstyle.
A loose, chaotic top knot offers you a casual style, but you can instantly transform it into a party look with some sparkle accessories.
Messy knotted bun
This hairstyle requires no technique and can be completed in less than two minutes.
All you have to do is divide your hair into two portions and knot them together. Then, beneath the knot, tie them with an elastic band. Repeat for a few more knots, depending on the length of your hair. Wait! Don't try to tie all of your ponytails; instead, leave the hair ends out for a truly sloppy look. Then, roll your ponytail and use bobby pins to secure it to its roots. To achieve a more natural look, pull the hair extensions  from your crown up for more volume.
Flip-in messy bun
As its name, you absolutely can imagine the hairstyle. You can go party, proms, or any occasional event with it thanks to its elegant and chic look.
Make a loose ponytail with your hair and comb it as smoothly as possible. Then, flip your hair through the upper portion of the elastic band. Shape the bun with your finger from the second flip. Continue until all of your hair is above the bun. Pancake the bun and the hair top, in particular, to achieve a slightly sloppy and natural look.
Messy braids bun
There are numerous variations on this hairstyle. However, we will select one of them as our favorite. Why? Because it is not only gorgeous but also flexible for all of life's events.
Begin with French braids on hair extensions side. Don't braid them altogether; leave some strands out to frame your face and give a natural, disheveled look. The braid should be tied from your ear to your nape. Simply knot them together with the braid and twist your ponytail, then coil it around the elastic bands and secure with bobby pins. A huge bun cannot be made without the pancake process. Another makeover is to braid your ponytail, make it fluffy, wrap it around to form a bun, and pin it. With a few flowers, you can become a bride! A feminine and mild look is ready for your wedding hairstyles.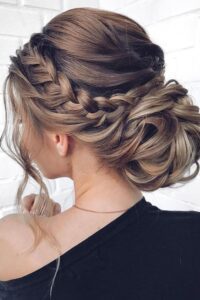 Mohawk messy bun
This hairstyle is simply gathered hair into buns in the centre of your head, as in other Mohawk hairstyles.
To begin, section your hair and tie it into a ponytail with elastic bands. Leave the front Mohawk section out. For the rest, you can divide them into sections as you see fit. However, we believe it is advisable to make only 2-3 more. It appears inappropriate if you produce more. Begin making a messy bun from the front to the rear. Flip each ponytail through the elastic bands as you make a twofold, then roll the rest of the ponytail around it and secure with bobby pins. Loosen the buns to make it more voluminous. You should fill the space between each of them otherwise it will look strange. With the addition of some gold hair extensions clips, you have an edgy hairdo while yet maintaining your feminine emotions.
Double Messy Bun
This is a fun and easy hairstyle for your hair for a carefree day out or weekend. It looks well on all hair kinds and lengths even short hair. If you have short hair that you can't put into a ponytail, go for two messy buns to enjoy their simplicity. You may be accessorized with headbands or scrunchies for an even more whimsical look. 
To start, brush it thoroughly to remove any tangles or knots. Part your hair down the middle from the front to the back. This will create two even sections of hair. Take one section of hair and twist it tightly, wrapping it around itself to create a bun. Secure the bun with bobby pins or an elastic band. Repeat it with the other section of hair, creating a second bun next to the first one. Pull out a few strands of hair extensions from each bun to create a messy, undone look. Use a hairspray or texturizing spray to hold the buns in place and add extra texture. That's it. Very easy, is it right?
Finally, the messy bun is a versatile and simple hairstyle that can be customized to any occasion. There's a messy bun variety for everyone, whether you want a relaxed and informal look or a more polished and sophisticated look. Don't be scared to experiment with different variations on this legendary haircut. You'll soon find your perfect messy bun with a little practice and ingenuity, and you'll be looking effortlessly chic in no time.