Truth to be told, many amongst us probably have spent way more time we would like to admit watching lace front wig install on TikTok and YouTube. Since creators always strive to make things look super easy, many of you might start to think "Maybe I should just get some supplies and start installing a wig myself".
But this notion is not just an innocent idea engendered by social media. The fact is in 2021, learning how to put on a wig is easier than ever. And you certainly don't need to be crazy rich or know a celeb stylist to be able to pull this off.
The first step always have to start with selecting the most appropriate wig for yourself. After that is done, you can start working on getting your wig work its magic. We will list all of the methods and steps in the following chapters.
Preparing Your Natural Hair
When you want to learn how to install a wig, you must first learn how to prep your hair. There are two main methods when it comes to preparing your hair and scalp for wig-wearing. Aptly, we called them: the wig cap method and the no wig cap method. Pretty self-explanatory, we guess.
As a rule of thumb, if you have a sensitive scalp, you should always wear a wig cap. This act as a barrier to protect your skin from irritation and aggravation. If while wearing a wig, you sense a feeling of discomfort, then a wig cap will also be a good addition.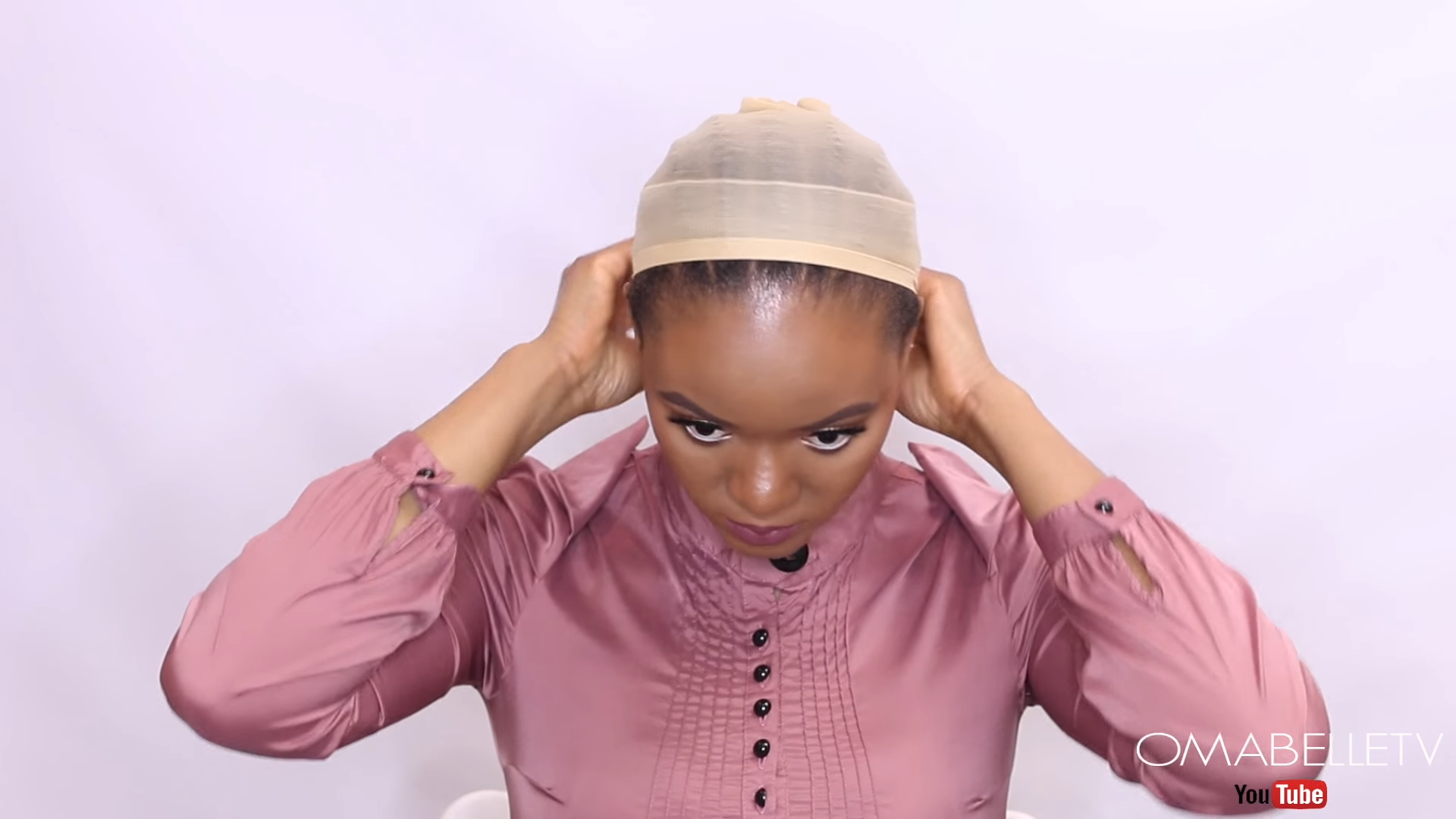 While it's true that you can wear stocking cap with almost any form of natural hair, the choice is ultimately your own. One group where we can give recommendation without reservation, people with little to know hair. The wig cap help make sure that their install become more secure and their scalp feel comfortable
The proponent for this wig cap method will argue that they keep the wig in its place and give you the ultimate realistic look. Whether or not it's worth your time and product used is a question only you can answer. Try out both options to see which one suit you best. If you need detailed guide on each method, check out our guides below.
Read Our Guide
Step-By-Step Guide For Putting On Wig
Step 1: Start gathering all products you need to install. Hold the wig with both of your hands at the nape of your neck.
Step 2: With your head leaning forward slightly, hover the front part of your wig over your eyebrows. Slowly pull your wig back so that it's covering your head.
Step 3: Push back the front part of your wig so that the placement is right around your natural hairline.
Step 4: Using the ear tab of your wig as guidance and center your wig placement. Both ear tabs should sit around the same spot in front of your ears. This help make sure the wig are where it supposed to be.
Step 5: Depends on what you buy, you can adjust the parting according to the parting area allowed. Use a rat tail comb for this job.
Step 6: Either use wig glue, wig tape, wig grip as well as the included comb and clip, adjustable straps to secure your wig.
Step 7: Finish your look by cleaning up parts where you feel is still a bit rough. You can even style some baby hair to round out the look.
Specific Tips When Installing A Wig With Lace Front
The general guide above is true for when you installing a wig of any kind. But for closure wig install, care should be taken to really make your wig pop. Here are some specific things you have to remember when working with lace front wigs.
It's easy to spot a lace front wig in comparison to other types of wig caps. The lace front will help you achieve a flawless look with very natural hairline and make it look like hair are growing straight out of your scalp. Furthermore, the lace base material allow users to put on make up so that it can match perfectly with their skin.
How to cut lace on lace front wigs?
Once the wig has been fairly secured on your head, we don't need to keep the lace any more. So what is the right technique for cutting off lace front wig? In fact the best techniques for cutting lace requires you to do it in a few steps.
It's not complicated to cut lace wig. However, it's important that you get it right and follow the instructions closely. With just a couple of simple tools, the lace will be cut and plucked to perfections. Here are our detailed guide on how to cut lace on all types of lace wig.
Three different ways to put on a lace front wig
As you have probably gathered, a women can choose various different methods to install their lace front wig. A wig grip, a wig glue or sew in are all viable options when you try installing a wig.
Of course, before you install a wig, please make sure to fit the long hair under the wig cap. All of this can be found on our stocking cap method guide above. Once this is done, pick the appropriate method for your situations to get your wig done.
Best way to secure your lace wig
If when the wig is installed you still find it's a bit slippery, then you should try various method detailed in this section. After all, a wig slip can be rather embarrassing and will never look good in whichever settings.
Once you have figured out the secret to a well-laid and secure wig, you can feel the confidence to do what ever you want in your new look. Shake your hair back and forth or dance off to a song? Nothing will be off the table.
Read our guide as we lay down the most practical advice on how to make sure your wig stay where it is no matter what.
How to make your wig look natural?
It goes without saying that everybody want to have a natural-looking wig. In order to achieve this, you both need to pick the right kind of wigs, as well as tinkering with it to make it even more real. This is more so the case with human hair wig.
To be able to do this, you can rely on a certified stylist in a salon or tackle this matter on your own. If you want a quick summary of all the tips to make your wig look natural, here's our quick articles how to make a wig look natural.
In the guide, we will address some techniques like working with the hairlines or preparing your natural hair, etc…These techniques are meant to make your wig look and act just like your real hair would. Read the guide if you feel like your installation can use some tweak to make it look even more realistic.
If you have any other questions or concerns regarding wigs and Luxshine wigs products, you can always learn more in our comprehensive guide on wigs.