Wigs have now become popular beauty accessories among beauty lovers. They can be made by hand or machine and come at different prices. Yet, it may be costly to get a high-quality and customized one. If you want to save some money while getting an ideal wig for your look, let learn how to make a wig. So, let follow our guide and you can rock your first wig soon.
However, before we get to know what to prepare and how to make a wig, let learn more about the different types of wigs. A basic understanding of the types of wig hair will help you make your own wig properly.
Types of Wigs
How many types of wigs are there?
There are so many types of wigs in the market. However, when it comes to lace wigs, there are 5 main types, namely lace closure wig, lace frontal wig, full lace wig, partial lace wig, and 360 wig.
Lace frontal wigs: Lace frontal wigs are the most popular type of wig among wig users. It is also the most common type that newcomers choose to start when making a wig on their own.
Lace closure wigs: Lace closure wigs are wigs using closures. The process of making lace closure wigs and lace frontal wigs are quite similar. The main difference is the size of the lace part covering your hairline.
Full lace wigs: Full lace wigs (or full wigs) have a base that is made fully of lace. This means they are a bit more versatile, allowing users to create more styles. This type of wig is easy to wear and simple to create. Though needling the strands through each mesh hole requires complete concentration and patient, you will be surely satisfied with the result.
Partial lace wigs: Partial lace wig is a type of wig allowing you to incorporate your natural hair. It is normally known as a half wig.
360 lace wigs: also known as 360 lace frontal wigs. This type of wig has a lace part covering the entire forehead. And if made properly, it will look like your natural hair.
So now you know the different types of wig, let choose the one you love to make first. Then, it's time to gather all the tools you need.
How to make a wig with closure or frontal?
What do you need to make a wig?
Below are some basic items you need. Except for the lace closure/frontal and weft hair bundles, you can re-use these items to make many other unique wigs of your own:
A mannequin head
Lace cap
A mesh net wig cap (adjustable is recommended)
Needles and thread
Pins: to hold the cap in place (or you can use tape and adhesive)
Scissors: to cut and trim as you string along
Comb and hair conditioner
Lace closure/lace frontal
Weft hair bundles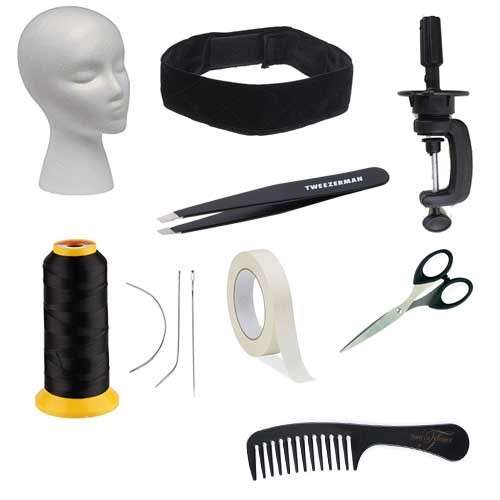 How to make a wig with closure or frontal?
Step 1: Choose lace cap and hair
Let make sure that the lace cap that you use compliments the color and overall look of your scalp. It's better to avoid anything with patterned stitching. And you have a wide range of options when it comes to hair. However, we suggest you choose high-quality human weft hair bundles to retain your wig for a long time.
Step 2: Form the foundation for the wig
In this step, you will use the wig cap and place it on the mannequin head. It's better to use an elastic strap at the end to secure the mesh cap in place, or you can use some pins.
Next, take a measuring tape and, with the endpoint on the center of your forehead, measure the circumference of your head, going around the sides of your ears, the nape of your neck, and back to meet the other end in the forehead.
The front-to-back measurement is taken by placing the tape at the same location on the forehead in front and letting the length of the tape pass through the middle of the head.
You can use these dimensions to determine how deep and wide you're working on the mannequin head.
Stretch caps are better choices for wig making since they keep the wig in place and are adaptable in case your wig is worn by someone with a larger head.
Step 3: Prep the Hair
To prep your hair, you will need to bleach the knots of the closure/frontal and cut the hair wefts.
Why do we need to bleach knots?
 If your lace closure or frontal is not pre-bleached, you will need to bleach its knots, so they are not visible anymore. And you can get a natural-looking scalp with the hairpiece. This act is often done by the professional, but since you are here, let check out the following points.
Make sure the bleaching mixture is thick and pliable, so you can apply it to the knots easier.
If the mixture is overly liquid, it may flow into other sections of the hair, resulting in undesirable damage.
Remove the bleach from the knots by gently squeezing the excess water out rather than rubbing them.
After that, use a toner to eliminate any excess yellowish hue and make it look more natural.
Condition the hair by working a generous amount into it with your hands and rubbing it across the length of the hair, then rinsing it off under running water.
Place the closure on a towel to dry as you go about your business.
And now, let move to the hair bundles. You will need to measure and cut the hair extensions to fit the circumference of the wig cap.
Step 4: Start sewing
Firstly, you will start to stitch your lace closure/frontal by hand. Then, secure it with the machine. You can do this afterward, but make sure to trace out the area first.
When it comes to the tracks, you will sew them in a U-shape into the wig cap, beginning at the back. This process can be done by hand or with a sewing machine. Remember to add the tracks from left to right. You can fold over the weft when you reach each end or cut it and secure it with some stitches to avoid shedding.
If you want your wig to look thicker, we recommend you double-stitch the wefts together. Once you finish sewing, let take your wig off the mannequin head and cut the excess lace of the closure/frontal. If your closure/frontal is not pre-plucked, you can use tweezers and pluck some hairs out.
Step 5: Try and style your wig
And finally, try the wig on your head to see how it looks and then style it as desired.
How to make a full wig?
What you will need:
Wig head
Wig cap
Wig lace
Scissors and comb
Needles and wig-making thread
Hair glue, and dryer
Weft hair bundles
Wig band or wig combs
Step 1: 
Put the wig cap on the wig head. You can put the wig head on a firm stand or table to make sure it will not move while you are working.
Step 2:
Thread the needle and ventilate the hair into the lace cap. You should start at the nape and work your way up to the top. After you finish ventilating, let seal the knots by using a knot sealer.
Step 3:
Attach the wig band or wig combs to the inside of your wig along the cap's side to help you secure the full lace wig on your head afterward.
Step 4:
After you've completed all of the steps, you can style, shape, and color the wig in any way you want. Another piece of advice for you is to dye the wig before you construct the wig if you want to go for colorful hair.
How long does it take you to make a wig?
Creating a full lace wig requires you to ventilate one strand by one strand. And this process may last about 2 weeks to a month. On the other hand, lace frontal wigs and lace closure wigs are the types of wigs that require little handwork and can be completed in a week. The majority of the work can be done with a sewing machine if you don't want to sew the tracks by hand.
So above are our guides on how to make a wig, including lace front wig, lace closure wig, and full wig. We hope that you can enjoy your time creating your own wig. Thanks for reading.