Sometimes, you meet trouble with the new hair dye because it doesn't display the color you want. Your hair stylist says that hair color will look clearer after some times you wash your hair but you don't see that, right? Don't worry! In this article, Luxshinehair will show you all necessary things to lighten hair dye with the most natural treatments. Without expensive expenses, these methods still bring wonderful effects on making your hair brighter. So why don't you try them?
1.Washing hair some days after dying
After having hair with a new color, you'd better not to wash your hair immediately. Shampooing hair should be done 2 or 3 days after dying. This thing helps the hair dye deeply absorbs in to each strand of hair and make the hair color remain longer on hair. The color also become lighter as you want.
Let's use kinds of specialized shampoo which are soft and not allergic to keep hair in the most comfortable state as well as to avoid making hair rough and hard. Beside, you should also wash hair with cool water instead of hot water which can make hair easy to be damaged and lost its color.
After washing hair in a right way, you should use a hair drier with low temperature or let hair dry naturally. It will be much better comparing to using high temperature to make hair dry quicker.
2. Lemons
Lemon is the kind of fruit which is very popular in making more beauty for hair. Obviously, it is also an effective natural treatment which can help hair become brighter and smoother. Mixing lemon with water in the ratio of 1: 3 and then use that liquid after you shampoo your hair clearly. With the soft acidic ingredient, it can help to lighten dark blonde or light brown color.
You can combine it with a little of olive oil for the better feeling. Notice that if you feel any uncomfortable or stinging trace of this method, let's stop washing with it and rewash hair with clean water immediately.
https://luxshinehair.com/product/lace-closure-4-5×5-5-fumi-curly-hair-black-color
3. Vinegar
With the similar effect to lemon, using vinegar is also very effective to lighten dark hair color. Mix vinegar 50/50 with distilled water, softly massage on hair and leave it on for about 30 minutes. Lastly, you rinse out with clean water and let it dry. Vinegar not only helps to dark colors become brighter but also leave reddish highlights effective. That sounds amazing, right?
4. Chamomile
Chamomile is not only beautiful, fragrant but also useful in beautifying hair. Chamomile lighten dark colors effectively. You only need to brew a strong cup of chamomile and let it cool. Pour it on head after shampooing hair as a kind of conditioner. You will see the effect of lightening hair gradually but impressively.
5. Honey and olive oil
Honey and olive oil are both good natural treatments for many situations and lightening hair dye is one of those advantages. Mix honey and olive oil according to the same ratio and smear on hair. The time of keeping the mixture is about 30 minutes. After that, you only need to rewash with water.
You also need to notice that honey and olive oil is very sticky so that they will become harder and easily get hair breakages when you keep it long. Therefore, let's be careful and gentle when washing hair to avoid hair being broken or fallen out.
https://luxshinehair.com/product/lace-closure-4-5×5-5-deep-wavy-hair-black-color
6. Baking soda
Using warm water combining baking soda is a very useful way to lighten hair color. Let the mixture in the state of medium paste which is not too dry and too thick on hair. After that, the thing you need is leaving hair on 20- 30 minutes. The more you keep it on hair, the brighter hair dye becomes.
However, after having your favourite color, let's care for hair more with specialized shampoos and conditioners to supply moisture for hair. Because this time, hair can be dry and weak, let's be careful to make it the most beautiful and brightest.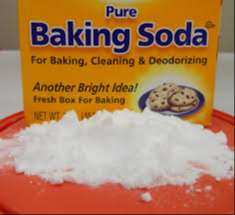 All of these above methods are natural treatments which is safe and comfortable for hair and scalp. However, everything needs time and so do these methods. You shouldn't feel upset if your hair doesn't have any change of color after the first application, you will need to do acts twice at least. However, the result will actually not make you disappointed.
How do you think of this article? Is it useful and will you try them? Share with us your comments for these natural hair care treatments. In case you don't want to lighten hair dye by yourself, why don't you order Luxshinehair's hair extensions. We have hair with many light hair dyes that can meet your demands. Therefore, coming to us when you need them!
If you have coarse hair, lightening hair dye can be a bit more difficult but don't worry, if you understand your hair, you will actually find the best way to make it more beautiful than ever.