Girls with long straight hair have many options to add volume to their hair. One option persists in the modern girls' hairstyles treasure trove. Beach wave perm is one of those hairstyles that never go out of style. Girls with long straight hair who want to rock some beachy wave might have many different ways to get this look. Some women love to do their hair up in a braid or make friends with the curling rod. Unfortunately, many girls don't belong to this group. This is why beach wave long perm is gaining popularity. Today, we're gonna help you choose your own extension by considering the pros and cons of beach wave perm long hair. Luxshine will also give you some pointers about this matter so you can get your dream hair in just a pinch.
Beach wave – many choices for beautiful ladies
The best thing about beach wave hair is the sheer amount of styles that fall into this category. As there are so many different styles that fit these descriptions, you can do so much to make the look your own. "When people talk about beach wave, what they usually want to get done are soft waves with straighter ends. You can make them happen by using a flat iron or curling irons or even by using perm," says Kristen Ess. If you don't know who she is, Kristen is a celebrity hairstylist who is most famous for her beach wave creations. She recently launched her newest haircare collection. We decided interviewing her would be an apt choice for our guide.
Deciding the type of hairstyles you want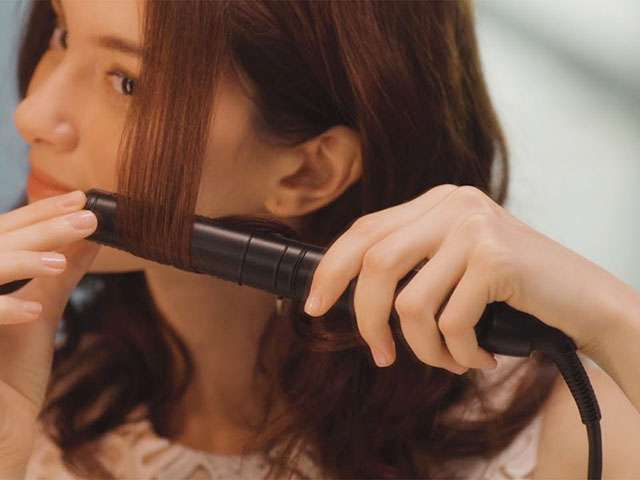 Start with having pictures of what your final looks should look like. Gather all the beach wave perm long hair that might look good. Put them together, either in a scrapbook, on Pinterest, or some form of a mood-board. The visual cue that these pictures provide will save you so much time and energy. When it's time to describe the look in your head, you should definitely state the exact details you have in mind. After your hairstylist has clearly understood what you want. He will get down to right perming method and tool to be used. Don't forget to give him the feedbacks so that he knows what you want. An honest client would make for a happy salon owner.
Listen to the experts:
"Each type of method will be suitable for a certain somebody. This is why it is so important to get our clients to come and do a consultation with us. Some people would prefer being able to style their hair every morning. While some other girls can't stand the idea". Kristen Ess gives us the lowdown on how to best decide. Kristen Ess is famous for beach wave looks she has done for celebs, we figure she should be the right person to ask. Please read on to find out how to go about our life with easy beach wave hair.
How does perm work?
The perming process works by changing your hair texture with the right set of chemicals. You can create marvelous waves or curls or any sort of texture using this time-tested method. To do this, the stylist will wrap your hair in rods before putting perming lotion on your hair to set the curl. You will have to wait for a while to let your hair texture sit. After that, let your stylist rinse out your hair, dry your hair till about 95%. She will then start applying a neutralizer lotion to stop the perming process.
Once this process is done. You can get almost "semi-permanent" curly- wavy hair for 6 to 8 months without any styling effort. As your roots begin to grow out, you can even like your curls better. The problem with having a perm done this way is that they tend to get messy and tangled during the course of the day. Your hair strands might have to tolerate a certain level of damage. To avoid this problem, only use sulfate-free products and stay away from heat as much as possible, so your hair can bounce back to life.
How do I care for my beach wave perm long hair?
Some girls consider perm, especially beach wave perm long hair to be a bit high maintenance. This is why it is recommended to anyone who might consider getting perms done to do their research. Permed hair can not be washed so often as regular hair. If you wash your hair too often, you risk tangling your hair and relax your curl.
Go easy with the heat
As stated above, permed hair should avoid heat exposure. So after you wash your hair you need to let the hair air dry or else you risk damaging your cuticle in the long run. Due to this precaution, women find it hard to find the right timetable to wash their hand AND allow it to dry. You can not style permed hair with excessive heat either. At least not the kind of hot heat that some of you have grown accustomed to. "Anything above 450º will blast out the hydration in your hair. This is the fastest way to shock your hair and lose your perm due to heat damage. " Ess gives us her stern warning.
How many products are too much?
Permed wavy locks also need more products for them to stay nice and bouncy like when you walk out of the salon. Kristin Ess says her clients can use between 4-6 products to maintain her hair in perfect shape. "They need at least a curling cream, a curling mousse, a volumizing mousse, and a curling spray. And that is only for maintaining the shape and the volume of the hair. We have not touched all the bells and whistles," Kristin told us. This score of products, while may seems excessive, would only be used after you are done washing your hair. For day to day products, the only products you may need are volumizing spray.
Should I get beach wave perm long hair if I want more volume?
Depend on who you ask. Do you hate the idea of having to style your hair every morning? Are you ok with the cuticle to take some minimal damage, then perm might be born for you. Are you fluent in hair care products? Do you hate using heat tools altogether, then it is a definite yes for you. But, if you can't stand messy, tangled hair, we recommend you keep your hair straight. And styles when you need a certain look done. Some women find the whole host of products layering on their hair might be the deal-breaker.
Another option that may not seem too obvious is to use hair extensions. You can put your hair in a suitable braid pattern and use sew-in wavy natural human hair in place of permed hair. This would mean your bio strands are not subject to heat or chemical treatments. If you decided to go with the hair extensions route, you would be amazed at what these options can mean. No more cuticle damage and much more experimentation with heat tools. Sounds like double fun to me.
As with all other products, Luxshine's weaves are not chemically treated. You can style them with any heat tools you want in our chemical-free range. You can also dye or bleach the hair and perm the strands since all the cuticles are in top conditions. Get Luxshine's iconic range of natural wavy weave so you can get that perm to look effortlessly. A new beach wave perm long hair hairdo suddenly seems within reach without the initial fear.