Don't panic if your hair won't retain a curl no matter how to curl long hair at home; you're not alone. Using the correct style tools, determining the best temperature for your hair type, and maintaining your general hair health are all important aspects of curling your hair efficiently. That's why we suggest tips on how to curl long hair. You'll find simple methods, as well as some useful photos, below.
How to curl long hair with heat tools
The heat devices are the quickest and most popular way to curl long hair. What tools will you need to create a variety of bouncy curls? Let's take a look and see what we can find!
Curling Iron
Curling iron with a clamp will give you more ideas to create a wide range of hairdos. Shapely, long-lasting spirals can be achieved in only a few quick steps:
Step 1: Perform the twist (s). Wrap strands around the barrel of the curling iron away from your face, clamping it towards the roots of a 1-inch section of hair.
Step 2: Hold for 10 seconds, then release and allow the curl set before repeating on the other portions.
Flat Iron
This reliable method creates curls that you can tweak to fit your hair texture and desired style. Step 1: Clamp a 1-inch section of hair around the roots with your flat iron.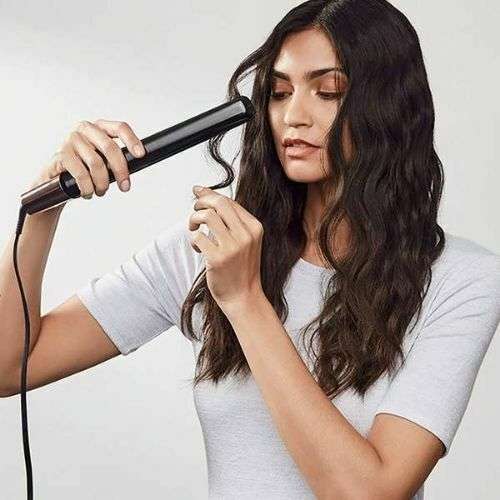 Step 2: Pull the iron away from your face, as if curling a ribbon with scissors.
Step 3: Carry on with the rest of the sections in the same manner.
Curling Wand
Curling wands produce looser curls and waves (tapered versions can form spirals of different sizes) that bring more gorgeous hairstyles.
Step 1: Keep your hand safe. If you're new to the process, we recommend wearing a heat-resistant glove on the hand that isn't holding the curling wand to protect it from getting burned.
Step 2: Section and smooth. Brush your hair fully and divide it into 1-inch parts, as if you were curling it.
Step 3: Curl your toes. Holding the wand vertically with the tip pointed down, take a portion of hair from the roots and wrap it around the barrel of the wand's lowest section, twisting it away from your face until you reach the ends. Rep the process as needed.
The use of hot rollers
Beyond generating bouncy spirals, curling hair with rollers has other advantages. Rollers are a simple and effective technique to add and maintain volume. Hot rollers can smooth and define hair faster than a blow-dry if you're in a hurry.
Step 1: Make sure your hair is dry and brushed out, and if there are numerous rollers in the set, choose the largest one.
Step 2: Start at the ends of a 1-inch segment of hair and wrap strands around the roller toward your roots until the entire piece is wrapped around.
Step 3: Repeat with the remaining hair, allowing the rollers to cool before unwinding.
See more: How to wear a wig with long hair-Easy methods for beginners
Curling hair without heat tools
If you do not want to harm your long hair, you can choose the following methods without using heat.
With the help of velcro or foam rollers
Step 1. Use a round brush to blow-dry small sections of hair, then twist each one around a roller to fix the curl. This allows the hair to cool while you work on the other areas.
Step 2. Continue with the remaining hair.
Step 3. Once all of the sections are in rollers, spritz them with hairspray to set the bend and let them relax for a few minutes. Leave them for as long as feasible if you have the time to help them keep their form and bounce.
Braiding
Every girl wishes for beautiful curls that do not harm her hair. Braiding is the easiest method.
Step 1: Start by shampooing your hair or misting it with a hairspray. You only need to wait for your hair to partially dry before combing it and keeping the moisture in it.
Step 2: Make a single or two braids for softer curls, and a multitude of thin braids for smaller curls.
Step 3: During the period when the hair is slightly wet, make sure it is tightly braided. You must leave your hair in the same style overnight or for at least a few hours.
Step 4: Later, you can comb them by hand using your fingers.
Creating a Bun
This incredibly simple way can be used when you want all of the hair ends to curl in the same direction.
Step 1: Start by shampooing or dampening your hair. To avoid knots, comb your hair thoroughly.
Step 2: Make a single bun at the top of your head for loose curls, or two separate buns by splitting and wrapping your hair for more wavy curls.
Step 3: Using bobby pins and a hair tie, secure your bun.
Step 4: Unwrap the bun after a few hours to reveal the amazing you.
Twist and Roll
It's a unique approach to change up your style.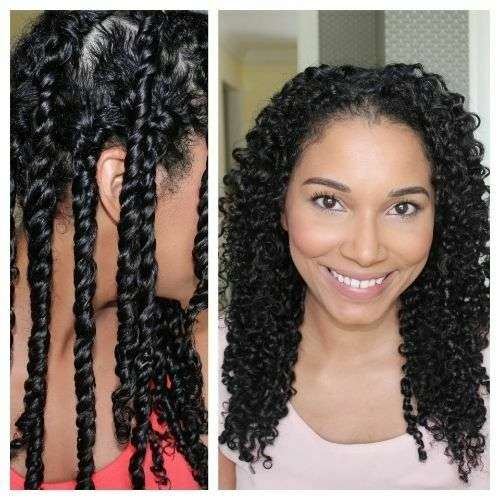 Step 1: Wet your hair and comb it through with a wide-toothed comb.
Step 2: Small strands of hair from the top of your head should be twisted in one direction.
Step 3: Using bobby pins and hair ties, roll the twisted strand into a tight bun.
Step 4: Rep with the remaining hair and leave them in for the night. In the morning, undo your hair to show off your magnificent curls.
Using a T-shirt
Is it possible to make a curly hairstyle out of an old t-shirt? Do you believe it? Follow these methods to create a variety of hairstyles with your t-shirt at home.
Step 1: Set them aside as you dampen your hair, dry it with a towel, and comb it.
Step 2: Place little strands of hair on top of the rag.
Step 3: Roll the rag upwards until it reaches the scalp, tying it at the end of each hair strand.
Step 4: Finish by tying a knot and repeating the process with the remaining hair.
Step 5: Allow to sit overnight, then untie the knots and separate the curls with your fingers.
Using socks
Curling your hair with socks may appear amusing, but it is a very effective procedure.
Step 1: Use a spray to dampen your hair and make sure it isn't soaking wet.
Step 2: Make a number of hair partitions.
Step 3: Take a sock and weave it through your hair, braiding it.
Step 4: Repeat with the remaining hair and leave it overnight.
Step 5: Untangle your hair from the socks gently in the morning.
Step 6: With bouncy curls, you'll be ready to wow with a flawless look.
Luxshine also shows you how to style long wavy hair, visit our website now to get more interesting information.
You can use the methods to curl long hair above to get the ideal curly hair at home. There's no need to spend money or time at the hair salon any longer. Even if you have curly hairstyles at home, you will look stunning.