If you are owning an oval face, congratulation! You have the shape of face which can go well with almost beautiful hairstyles. It is not important that you want to have a short or long hairstyle, combining it with the oval face will bring the most wonderful effects for your appearance. In this article, let's discover flattering and inspiring haircuts for oval faces. We make sure that you will choose suitable styles that you love.
1. Short haircuts for oval faces
Pixie haircuts
Different from round or square faces, oval faces can fit perfectly with short haircuts, especially with pixie hair. Obviously, the effect that they bring to is extremely impressive and energetic. With the oval face, pixie hair will embrace your face and give a harmonious image. You can choose different hairstyles for pixie hair such as pixie hair with side part bangs, curly pixie hair, faux hawk pixie hair, etc without worrying that the oval face can be unsuitable.
Sleek bob
Sleek bob hair give women with oval faces extremely mature and charming appearances. If you have a perfect oval face, combining bob style with side part bangs or keeping the middle part bob hairstyle is ideal. In case your oval face is a bit long, you can leave some fringe and your appearance will be very beautiful and sweet. Don't forget to merge this style with appropriate accessories and makeup styles, you will be the most outstanding in anywhere.
Messy bob with Accent Braids
Sometimes, having some highlights on short hair will bring surprising effects for your oval face. If you are owning short hair, why don't you have yourself a messy bob with accent braids. Layers of messy bob with appropriate colors will make hair look absolutely creative and bright. Whereas, some braids make wonderful accents on hair. You can also use more colorful strings for the most overwhelming appearance.
https://luxshinehair.com/product/weave-loose-wavy-hair-black-color
Wavy shoulder length hair
Wavy bob or wavy shoulder length hair  is never out of fashion because it is suitable for every shape of face, of course including oval faces. Hair waves look very soft and natural that bring attractive images for women at all age groups. Moreover, it is also very effective to make thin hair become thicker and more voluminous.
You have tons of different these wavy hairstyles such as loose wavy bob, deep wavy bob, natural wavy bob, bob with bangs, bob with hair colors and so on for impressive images. Thus, if you want to have a perfect short haircut, don't ignore this trend.

2. Medium length and long haircuts
As mentioned, oval faces are suitable for every shape of hair and bring the most beautiful images to your appearances. If short hair makes you look so creative and a bit rebellious, long and medium length hair give you soft but enchanting than ever.
Medium length loose wavy hair
Wavy hair is exactly the most popular hair texture which is loved much by women all over the world from noble women to common girls. There will be a big mistake if we don't talk about loose wavy hair with medium length size. Loose hair waves make hair look absolutely mild and voluminous. You don't need to raise your hair too long to look so beautiful with this style since medium length hair is exactly the most suitable choice.
Medium length layered hair
Layers of hair is also ideal to make hightlights for hair. No matter it is straight or wavy hair, lightly curved layers of hair embrace the oval face softly. It will not make your face look longer but in contrast, you will have a mild hairstyle which can make you look much younger and more self- confident.
Straight long hair
No one can resist the beauty that straight long hair brings to girls with oval faces. No matter which skin color you have, straight long hair make you look absolutely mature and charming. Having this styles is extremely comfortable and natural. This is also the style that a lot of famous star like Naomi Campbell, Bella Thorne, Beyonce, etc use to have the impressive and bright style in front of the crowd.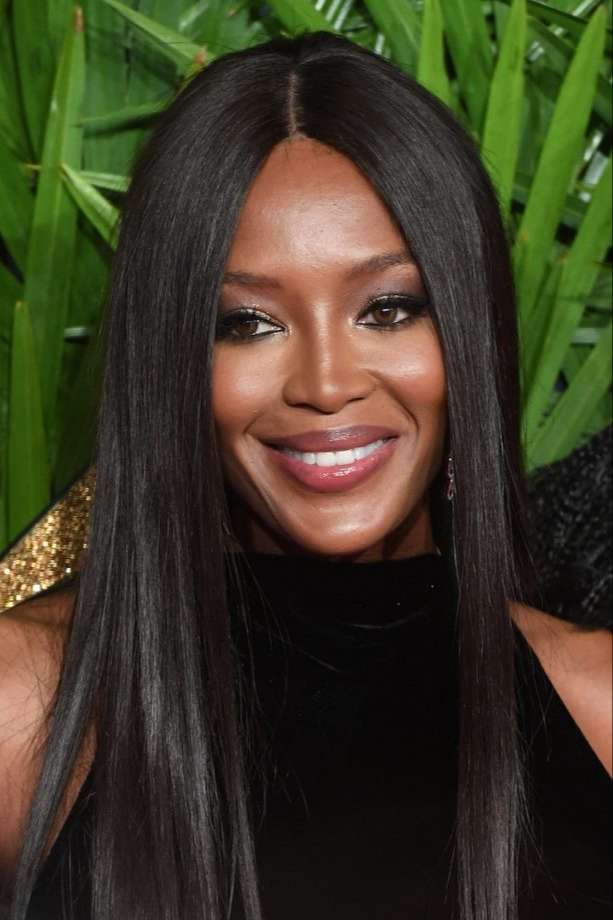 See more: Weave natural wavy black hair
Curly long hair
If you love sweet and dreamy images, don't omit long hairstyles with hair curls. You can use deep curls, loose curls or any kinds you want to have your favourite styles. You will actually look perfect, especially with the oval face. Don't forget to combine it with appropriate colors or types of bangs to have impressive and unique styles.
Apparently, having curly hairstyles will make your hair look thicker and more stunning. Whereas, long hair is extremely outstanding and attractive. They are exactly criteria that every girl want to have, right?
Wavy balayage long hair
You can choose your self every hair color that you love the most to have an impressive medium length or long hairstyle. However, if you want to have a bit of personality and creativeness, wavy balayage long hair is exactly the style you need. The combination between a light color and a dark color on hair will make it look extremely impressive and attractive.
Have you found the suitable hairstyle for the next change of your hairstyle? We believe that the aforementioned information will give you useful suggestions about haircuts for oval faces. In case you don't have thick hair to have these impressive types, contact Luxshinehair to have your favourite hair extensions. Our real human hair products will actually bring the most naturalness and impression to your hair.
https://luxshinehair.com/how-often-should-you-wash-your-hair/