Welcome to my latest blog post on the strange world of hair extensions, dear readers. As someone who has worked in the beauty industry for many years, I've learned that the world of hair extensions is one of the most perplexing. It's the equivalent of attempting to solve a Rubik's Cube while blindfolded and standing on one foot. But fear not, I've unlocked the secret to hair extensions and Luxshinehair is here to share with you everything you need to know. Are you ready to dive in?
What are the different types of hair extensions?
Hair extensions are a type of human or synthetic hair that is tightly bonded to your scalp, adding length, thickness, or color to your natural hair. Hair extensions are well-matched in color and texture blend in with your natural hair, making it difficult to tell you're wearing them.
According to Luxshinehair, there are 4 main types of hair extensions: tape-in, clip-in, pre-bonded (fusion hair extension), and halo hair extensions. While they all have the same purpose in mind—creating long, luxurious hairstyles—they differ in terms of application, texture, and duration.
Tape-in

: this is a kind of hair extension that attaches the extension hair to your natural hair using a thin, double-sided tape. A part of your natural hair and another tape extension are sandwiched between the little sections of extension hair that have an adhesive strip already attached at the top

Clip-in

: a type of hair extension that consists of multiple wefts of hair that have small clips attached to them. These extensions are used to clip onto your natural hair for added length or volume.

Pre-bonded

: sometimes referred to as keratin bond extensions, is a technique that employs bonds with various U, I, V, and Y shapes. And insert them using a heat machine in the hair

Sew-in

: as the name suggests, sew-in is sewn into to install them.  Firstly, tightly braid a tiny horizontal braid and install sew-in extensions by the sew-in method. 

Halo:

  are designed to be worn like a halo around the head
Which hair extensions are best for me?
There is a variety of human hair extensions and a different range of prices. If your natural hair is short, or thin, you might wonder that ''what are the best hair extensions for short hair?". What are the best hair extensions for thin hair? What are the best hair extensions for me? How much do hair extensions cost?''. Dozen of questions will race through your mind. Choosing the best hair extensions also depends on factors (hair type, lifestyle, budget, desired look). If they are as clear as mud to you, here are a few guidelines: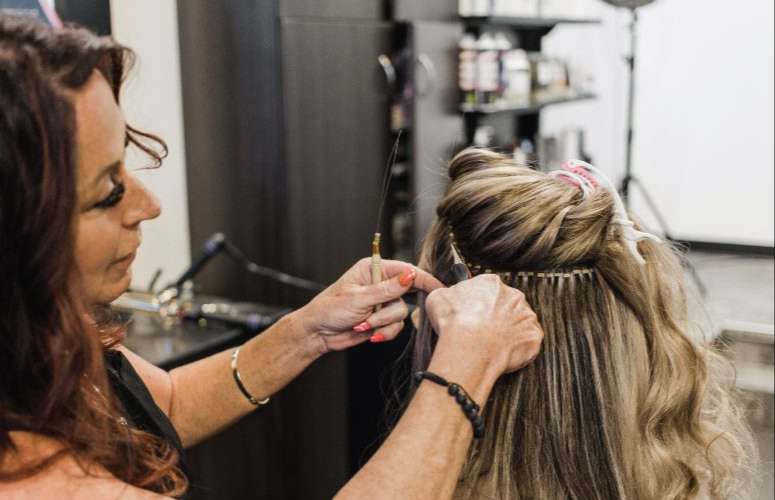 Clip-ins

: are the quickest and least expensive type of hair extension. They're applied easily in only 10-15 minutes and are simple to remove whenever needed.  Their cost is between 100-250$ per set (7 pieces). They are also the least harmful type of hair extensions because they don't require the addition of chemicals or other solutions. However, if you have thin hair, clip-in hair extensions won't be your best friend in achieving the ideal length and volume.

Sew-ins

: are one of the older types of hair extensions. They are normally braided from ear to ear and stitched the weft of hair into the braid. Sew-in extensions typically cost at least $250 plus $500 for each track sewed in. Sew-in is not suitable for those who have thin hair. The hair when braided near the roots, will weigh your hair down. You're not only uncomfortable while wearing them, but they also damage your hair. However, you can use hand-tied weft or genius weft for thin hair to make sew-in. Because the seam line of hand-tied and genius weft is lightweight more than machine weft. 

Tape-ins

: Luxshine's favorite type of hair extension.

Tape-in extensions blend seamlessly with natural hair, creating a natural and realistic look. Wear time is 6-8 weeks before needing to be reinstalled. They cost about 200 to 600$.

Tape-in hair is a

must-have item for those with normal-to-thick hair textures. If you have thin hair, let's consider it carefully.

Pre-bonded:

 These hair extensions can be applied in three to six hours and used for two to four months. For fine or weak hair that might not be able to support the weight of other fitting techniques, pre-bonded extensions are fantastic. Because they mix in so perfectly with your natural hair, they can feel more comfortable than other types of extensions, and you could even forget you're wearing them. However, the cost is pretty high ranging from 500-1200$.

Halo:

are the least damaging to the roots of your hair. The head's crown is encircled with a transparent wire that resembles a halo. It is easy to conceal under your own hair because the top half is left bare and the bottom half is filled with hair. There is less weight tugging on your natural locks because it isn't attached to any stands, and you can do it yourself quite easily. They can last 3  to 5 years, and take 2 to 3 hours to apply. The cost can range from $50 or less to $200 or more. If you're interested in extensions but aren't ready to commit to a more long-term application, this is a fantastic alternative for you. Halo hair extensions are the best method for thin hair because it does not put any weight on natural hair, there is absolutely no risk of causing hair loss.
Will hair extensions be appropriate for wedding hairstyles?
Yes, your wedding hair dreams can come true with the help of hair extensions. They are excellent for enhancing your preferred hairdo with more volume, length, and even color. If you've never taken extensions before, we typically advise clip-in extensions to brides because they don't require a significant time commitment and provide you with gorgeous hair for your wedding day.
Can I swim while wearing hair extensions?
We do not encourage swimming or getting your extensions wet (unless while washing them). The chlorine in swimming pools, the salt in ocean water, and the filth in all bodies of water can all be harmful to your hair extensions. Swimming with your extensions clipped in can also cause tangling with your natural hair, which can be detrimental. 
If you want to wear your extensions in the water, wrap your hair up to keep it from getting wet with a silicone swim cap that able waterproof to protect your hair extensions from the water of the pool.
Can I sleep with my hair extensions in place?
Luxshinehair does not highly recommend wearing hair extensions while you sleep because it can tangle and harm both your natural hair and the extensions if they do. Please do this every day to preserve the integrity of the hair because it only takes a few minutes to clip them in and a few seconds to take them off.
However, in some irresistible circumstances, make sure your hair extensions are secured properly before going to bed. Tie your hair back or braid it loosely, which is a useful method to prevent maximum damage to your hair. Additionally, you should consider using a silk or satin pillowcase because they will assist to reduce friction and keep your hair and extension from being tangled or damaged.
Are hair extensions bad for your hair?
If you wear and maintain hair extensions properly, they will not damage your hair. However, due to bonding, gluing, and pulling on the hair, some more permanent hair extensions might harm the hair. The least damaging alternative is clip-in hair extensions, which are attached to your hair by simply clipping them in like conventional hair clips. In addition, because you are not sleeping with the extensions in or wearing them continuously for a long time, less pulling and stress is placed on your hair, which leads to healthier hair. Your hair suffers no harm from clip-in hair extensions.
Who is able to wear hair extensions?
Almost anyone who is looking to enhance their hair. Men, women, and even young children of all ethnicities can wear hair extensions without risk. Additionally, you can use hair extensions to lengthen or add volume to your hair without coloring it and with little to no effort.
Can I play sports while wearing hair extensions?
Yes, you can play sports while wearing hair extensions, but there are a few precautions you should take to make sure the extensions stay in place and aren't harmed while you're exercising. To keep the extensions in place, use a hair tie or headband. They won't become twisted up or separate during sports thanks to this. Besides, think about using a cap or a hair net to shield the extensions from perspiration and abrasion.
Will hair extensions blend if my hair is short?
Hair extensions can merge with short hair, but the length and structure of the original hair, as well as the type of hair extensions utilized, are important considerations. Longer hair is normally simpler to blend, but if the natural hair is at least a few inches long, it may be able to mix extensions well.
What is the average lifespan of hair extensions?
Based on different factors (the quality of hair, the method of installation, and how well they are cared for), hair extensions have different lifespans. They typically last 2-6 months, with some high-quality extensions lasting up to a year with careful treatment.
How do I style my hair extensions?
Hair extensions may be done in a variety of ways to help you get a thicker and longer hairstyle or even to give a burst of color to a certain appearance (our ombre collection is amazing at doing this). Buns, ponytails, braids, and even curls may all be created with hair extensions! There are numerous choices.
How to brush my hair extensions?
Hair extensions can and may tangle, just like long hair often does. We advise using a paddle brush or detangling hairbrush to brush your extensions before and after use as well as throughout the day. Remember to brush your extensions from bottom to top to help gently untangle and smooth out any knots.
Can I dye/color hair extensions?
Yes! Since all hair extension products from Luxshinehair are made with 100% Vietnamese Remy human hair. They can be easily dyed and bleached to light color even #613 with high-quality hair (type L). However, if you are not a professional hair colorist, we strongly do not recommend getting hair extensions colored a lighter shade, as it will require them to be bleached. Bleaching is a harmful chemical process that can alter the quality of your set, and even damage it. If you do wish to dye or bleach your hair, we advise using a one-clip weft as a test run first before dyeing or toning the entire set, to ensure that you are happy with the results.
How long does hair have to be to wear hair extensions?
The length of your natural hair will determine the length of hair extensions that you can wear. In order for clip-in hair extensions to mix properly, we advise that your hair be at least 4-6 inches long, or roughly shoulder-length. This will ensure that the extensions have enough hair to attach to and blend in seamlessly with your natural hair.  If your hair is any shorter, you can have problems concealing the wefts in your hair.
Will hair extensions be obvious to others?
It is determined by several things, including the quality of the extensions, the ability of the person who put them, and the sort of hairdo you choose. If you have high-quality extensions that match the color and texture of your natural hair and are done by hair extensions experts who take care to blend them in with your natural hair, it is unlikely that people will notice.
However, if the extensions are of low quality, do not match your natural hair nicely, or are not correctly fitted, they may stand out more. Furthermore, certain haircuts that pull the hair back tightly or expose the roots of the extensions may highlight them.
Can I curl and straighten my hair extensions?
All hair extension products from Luxshinehair are made with 100% human hair. So you could easily curl and straighten the same as your natural hair. However, unlike real hair, hair extensions were not nourished by the scalp. It is important to use a heat-protectant spray to prevent damage.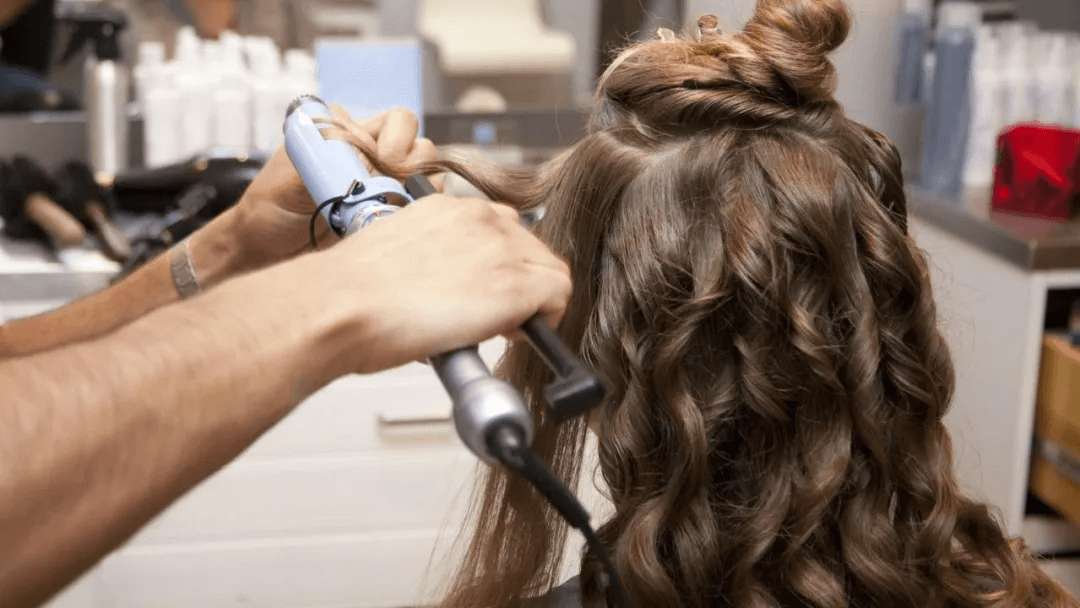 When may I wear hair extensions?
You can wear hair extensions anytime you like, as long as they are properly installed and cared for. Many people wear extensions for special occasions such as weddings or other formal events, while others use them every day to add volume, length, or color to their hair.
Should I get hair extensions?
Whether or not to buy hair extensions is a personal choice based on your own demands and preferences. Hair extensions can be a terrific way to add volume, length, or a flash of color to your existing hair. They can also be beneficial for people who have thinning or lost hair. Before acquiring hair extensions, you should consider a few aspects. It is critical to choose the right type of extensions for your hair type, lifestyle, budget, and desired look. 
What extensions do celebrities use?
For everyday wear and special occasions, clip-in hair extensions are a great choice. Celebrities love clip-in hair extensions because they are so easy to use; adding and removing them only takes a few minutes and doesn't require a trip to the hair salon. The new you is simply clipped in, and there you have it!
Due to the convenience, and quickness; hair extensions are far more frequent among celebrities than you may believe. Here are the top five celebrities who use hair extensions:
Kim Kardashian:

is used to switching up her looks, and this includes using hair extensions. This was made plain in the past when the hair transformed from short to very long in a matter of days, a change that was obviously unnatural. And her large collection of hair extensions and hair extensions helps her do that.

Hailey Bieber

: Another celebrity whose hair transforms quickly from short to long or blonde to pink to wavy.

Jennifer Lopez

owes a lot of her fashionable image to hair and beauty experts who put real hair extensions on her.

Rihana

is a well-known singer who is also renowned for her love of experimenting. She was adept at switching between extremely short haircuts and long, luscious curls. You already know her secret, which involves hair extensions.

Victoria Beckham:

a fashion mogul-the former Spice Girl, prefers to use a full head of hair extensions to accentuate her tumbling locks, despite being recognized as a fashion mogul with sleek, business-babe bun haircuts. As Victoria acknowledged in one of her interviews, a large part of her fashionable appearance is due to hair extensions.
Where can I buy hair extensions?
You could wonder, "Where is the hair extension near me?" after gathering all the information you need. Don't look any further because the hair extensions are only a screen away from you. 
On our website, www.luxshinehair.com, you can get hair extensions online while you're at home.  The purchasing process and payment are very convenient and easy to do. The goods will be shipped to the door of your house. Do not hesitate to get in touch with our support staff who are always available and get FREE consult from them!
So, there you have it. The hair extension secret has been exposed. Hair extensions are an excellent method to change your look, whether you want to add length, volume, or a splash of color. Remember that the key to success is selecting the right type of extension for your hair type and caring for it properly. With these pointers in mind, you'll be a pro at hair extensions in no time. Best wishes!