Brown hair may be the most popular hair color that is loved much by women all over the world. It is quite dark and soft but beautiful enough make people keep its image in their mind. There will be more wonderful if brown hair is gone with blonde highlights. Blond is bright and outstanding so that it will embellish brown hair the best.
If you are having an intention of dyeing your hair, don't ignore suggestions of brown hair highlighted with blonde since they are really beautiful and impressive. Don't believe? Let's with Luxshinehair discover the most gorgeous styles of brown hair with blonde highlights right now!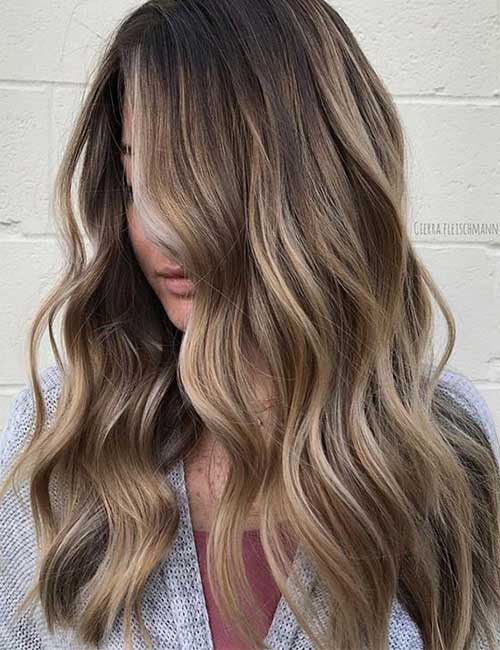 1. Dark brown hair with blonde highlights
Being a dark tone doesn't mean that dark brown hair is not beautiful and suitable when combining with bright blonde highlights. In contrast, these two colors fit well together and give your hair interesting experiences.
Layered dark brown hair with sandy blonde
There will not difficult for you to meet women with this hairstyle on the street 'cause it is quite popular. Sandy blonde highlights really makes dark brown hair color look much more outstanding than ever. Obviously, active and creative layered hair helps hair strands become more eye- catching. This  is actually a style which can't be ignored as for modern and energetic girls.
Wavy dark brown hair with golden blonde highlights
You can choose this style with balayage, ombre or sombre hair for different images. Dark brown tone is very natural and soft while golden blonde is quite classical and luxurious. Thus, this color combination can give us relaxed and comfortable feelings.
Commonly, keeping this style with medium or long hair is better than with short hair because hair color is spreaded more regularly and widely. That also means your hair tone will look more impressive.
https://luxshinehair.com/product/lace-frontal-deep-wavy-hair-blonde-color
Chocolate brown with honey blonde
Do this "yummy" hairstyle make you feel excited about? Chocolate brown is a popular tone which is love much by women all over the world 'cause like its name, this dark brown color is very warm and sweet. Of course, honey blonde hair is also never make people disappointed. This color is bright and sleek enough to make hair refreshed and attractive. So why don't you try this style for some special occasion?
Brunette hair with mushroom blonde
Using mushroom blonde hue as highlights is actually not a bad idea to combine with brunette hair. Brunette is a dark tone of brown which is quite specific and popular. Of course, it can fit well with soft mushroom color to make a perfect hairstyle.
Because of it naturalness and softness, this hair color is very popular in global fashion industry. Manny models, actresses or trendies have used tried it and got a lot of good complements. No matter your hair is long or short, straight or curled, brunette hair highlighted with mushroom blonde color can give you a more impressive appearance.

https://luxshinehair.com/product/10-inch-human-straight-weave-hair-extensions-with-ombre-colors
Mocha brown hair with Ashy blonde highlights
Tones of coffee brown hair are very popular thanks to their naturalness and mocha brown hue is one of them. It is like black hair mixed with a bit brown tones like an useful way to make natural hair look brighter. You can also make rich mocha brown tone with some moisture gels. In addition, adding ashy blonde highlights makes hair look brighter and it is specially helps to embellish your white skin tone.
Dark brown hair highlighted with Amber blonde
This hair color is extremely appropriated with charming and sexy women since it looks so stunning and catchy. Both dark brown and amber blonde look very courteous so it gives perfect harmony on hair. Combining hair with loose curls or hair waves and twinkle accessories is wonderful for a prom meeting!
Almost hair tones of dark brown and blonde hair is not too radiant so that women with every kind of characteristics love them. How about you? Have you found your favorite one for your next hair change?

2. Light brown hair with blonde highlights
Ok, if you haven't found a suitable brown hair color with blonde yet, let's continue exploring light brown hair with blonde highlights together with us! Light brown tones are lighter so that it may go with blonde highlights better. Check them out!
Chestnut brown hair with strawberry blonde highlights
If you love hair colors with a bit blushes, why don't you try chestnut brown hair with strawberry blonde color? Essentially, strawberry blonde is unique and outstanding so that when it is mixed with chestnut light brown tone, hair's color will look softer and more natural. However, it doesn't mean that this hair color is not beautiful. On the contrary, it makes a more harmonious combination for hair.
This hair color is dreamy and charming so it is very suitable for women to show the soft extent in their characteristics. Don't hesitate to make your hair with some bobbing waves and a medium length style for the most impressive image.
https://luxshinehair.com/product/lace-frontal-deep-curly-hair-light-brown-color
Light brown hair with Blorange highlights
For girls loving the outstanding appearance, combining blorange highlights with light brown hair is not bad. Blorange is a unique color of blonde hair since it is mixed with some orange tones for hair brightness. You can use this color like a way to make impression right at the first sight with other people.
When combining with light brown color, you can choose ombre style to make hair color look more harmonious with light brown tone above and blorange tone below so as not to make the two colors be jumbled. Otherwise, let's try another style that you want but don't do something which is too risky that can damage these bright colors!
Caramel brown hair with Cream blonde highlights
Indeed, we always find creativeness for our hairstyles and colors so that trying combining opposite tones likes caramel brown and creamy blonde is not bad. Cream blonde is bright and caramel brown tone is also not too dark but enough to make a perfect font for impressive blonde highlights.
You can only add some clear blonde highlights on hair or make a balayage style to beautify your hair. Every way is impressive and eye- catching.
Light brown hair with platinum highlights
There will be a big shortcoming if we don't mention light brown hair highlighted with platinum blonde color. Platinum blonde is a color tone which is very outstanding so that it brings to very darker hair color a completely fresh image. With these impressive highlights, you even don't need to add any other ornaments because hair hue is too beautiful and attractive.
All of these suggestions of brown hair with blonde hight lights are so gorgeous and superb, right? Let's try changing your hairstyle with these tones and take people around by surprise. We make sure that they will never make you disappointed about the appearance that they brings to your hair. For more information, visiting Luxshinehair to explore them! Check out styles of medium brown hair for more impressive images.