There is no denying that hairstyle plays an important role in promoting the beauty of women. A hairstyle that suites the face will completely change the look of women, help them become more confident to shine up. However, to purchase a favorite type of hair in trendy texture and color is not always easy for almost women since hair diseases create a big barrier in beauty path.
Thinning hair and hair loss are the most popular hair diseases that most of women have to suffer as a result of stress, overthinking or bad hair care routine. Besides, abusing chemicals and bleaches to dye hair is also the main reason leading to damaged hair, make it weaker, thinner and dry.
That's why despite dreaming of owning a trendy color and hair texture, many women still say no to chemicals to protect their real hair. However, this dream will totally come true if you try human hair wigs-the quickest, easiest and safest way to get your dream hairstyle. If this is the first time you've heard about wigs, Luxshinehair will help you to have a closer look to this kind of "beauty transformer".
What are human hair wigs?
Wig is a head covering made from human hair which is very popular since it is not only convenient in using but also brings a completely new appearance to customers just in a few minutes. The quality of wig is decided by the type of hair (remy hair will give the best products) and the process of manufacturing (hand-made wigs will lengthen the durableness of wigs).
In the market, you can find some types of human hair wig that are Full lace, Lace closure wig, Lace frontal wig, U-part wig, and silk-based wig. Right from the name of these types, you can image how different they are.
https://luxshinehair.com/differences-between-full-lace-wig-and-lace-front-wig/
Wigs are various in size (long, short, medium), colors and texture (normally the texture will include straight, curly and wavy styles) which bring you different options to find the most suitable one. Wearing wig is the best way to change your hairstyle without using any kind of harmful chemicals which can destroy your natural hair.
If you often read fashion magazine or big show like Cannes Film festival, you can see many super stars in the world gathering on the red carpet with different hairstyle and color shining in beautiful dresses. You can notice their hair changed in a blink of eyes into a long, thick and smooth hair, compared with their hair in their last shows just two days ago. This is the magic of human hair wigs.
You may refer: Celebrities That Wear Wigs All The Time
How to use wigs?
Wigs bring us a lot of benefits but is it difficult to wear a wig? If you still wondering about it, the answer is "completely no".  If you tried hair extensions before, you may see that wearing wig is even much easier than installing any kind of hair extensions. What you need to do is applying it directly into your head and that's it! Luxshinehair will introduce you some tips to get the wear wig perfectly.
First, you should braid your natural hair as tight as possible, so it will not be bulky under wig. You can use toothbrush and hairspray to comb the baby hairs backward, so it will help conceal your natural hair. The main goal to fit your wig is hiding your natural hair color, so you can try shaving a couple of millimeters of your baby hairs and we bet that it will make a big difference. Put wig on your head, adjust it at the top of your head then gently pull it round to your nape of your neck and secure the attached clip to your head.
After applying, you can braid or curl your new hair in different styles that you like without worrying anyone will recognize. Besides, you can dye wig into other color since it is made from human hair, so it will have the same structure as your real hair.
How to take care of wigs?
Hair care routine is also important which can decide whether your wig last longer and stay healthier or not. Made from human hair, wig also need to care as your natural hair. Wigs can be called as an investment for beauty, so you will not want to pay a big deal of money for nothing, will you? Therefore, remember to protect and take care of your wigs carefully. Luxshinehair will give you some steps that work perfectly in caring and protecting human hair wigs.
When you comb wig, be gentle as much as possible to avoid losing strands. You don't need to comb it every single day, let it relax. When you are stay at home, you can take off your wig and put it on a wig stand, so it will help to keep the shape of wig. You don't need to wash your wig every day, just condition it every couple weeks to keep it soft and shiny.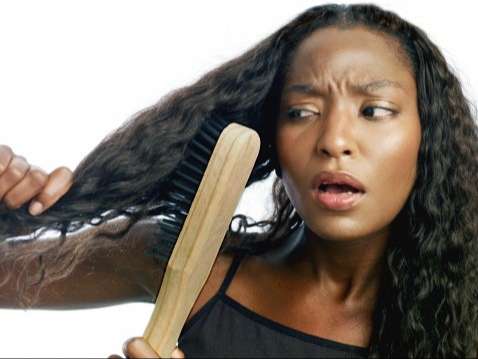 After washing, avoid to shaking your wig with towel like you often do to dry your real hair. Just dry it piece by piece and remember don't style when the wig is still wet or it will damage the strands and make them fall out easily. If you have intention of dying your wig, no worry, just make sure that you protect it carefully and stay gentle with your wig.
How long do human hair wig last?
Owning a wig, you may want to know how long a human hair wig can last, right? Especially when you first try wig and have no idea about it. The life of a human hair wig will depend on the two main factors: the quality of hair that used to make a wig and how carefully you look after your wig.
Wigs from Luxshinehair are made from remy hair which means the strands are kept aligned in the same direction, so the hair will not be tangled and the lifespan will be longer than synthetic hair. Some other factors can affect the health of wigs are sunlight, smoke, dust and temperature. When you are not using wig, you can put it on a wig stand at normal room temperature.
The more attention you pay to your wig, the longer its lifetime is. If you follow our tips about how to care wig above, you can totally expect the lifetime of a wig over 2 years or even longer.
How much does a wig cost?
As we mentioned before, wig is an investment of beauty, so more money you pay, the higher quality you may get. Even though human hair wig is more expensive than normal hair extensions, it is totally worth the money you pay since you can easily style your hair and protect your real hair. However, sometimes customers, especially those who first try wig, still be cheated by some suppliers since they sell wigs that mix between human hair and animals hair with the high price.
Therefore, choosing a trustworthy store is very important, especially when buying online, you cannot touch it to feel, only see through some photos. As a research from international hair market, the cost of buying a wig will range from $50 to $3000 depending on the material of wigs. Synthetic wigs will be cheaper but the quality is lower and the strands don't look real since they are dry and stiff. That's why if you want to look more natural when wearing wig, you'd better buy human hair wig since you get what you pay for.
Understanding the demand for beauty of women, Luxshinehair offers to women the highest quality wigs with the most reasonable price (price ranges from $150 to $400 base on the length, volume, color and texture of wigs). Made from 100% human hair, Luxshinehair's wigs will solve all your hair problems and brings you a natural look with the cheap price.
Where to buy human hair wigs?
Finding a store to buy wigs will be the last but the most important step when purchase wig at the first time. Since the demand of buy wigs has been increasing, more and more hair extensions and wigs suppliers appear and offer products with different prices which makes you difficult in choosing wigs.
You can go to some store nearby to have a closer look to wigs as well as consult the price before deciding to buy a wig for your own. After that, you can google to find some websites that sell hair extensions and wigs and you can read the reviews of their products below. If you are looking for human hair wigs with the wholesale price, Luxshinehair should be your final destination. We will give you the best advices to find the most suitable wig which will completely satisfy you. You can completely feel assured since Luxshinehair is one of the leading companies in exporting to hair international market and we only collect Vietnamese women hair as material to make products. Therefore, don't hesitate to leave us a message immediately!
References
Let's see more Wig hair extensions from Luxshinehair
Wearing wig is the best way to change your appearance in just a few minutes and it also helps you look more natural than other hair extensions. If you are suffering any kind of hair diseases like fine and thinning hair or hair loss, you should try wig as soon as possible. You will be surprised about the magic that human hair wigs bring to us. Now you can completely owning a long and thick hair with your favorite color without worrying about using harmful chemicals which can destroy your real hair. If you are still worrying about the cost, Luxshinehair will make sure that we will give you the highest products with the competitive prices.
You can love: All necessary things of donating hair