Find out how to style long wavy hair with 7 simple methods from Luxshine. This is the greatest technique for long locks that show off your hair's natural beauty. This easygoing appearance is the definition of charm, whether you're heading out for a lavish meal and drinks or spending an intimate night in. To create volume and texture, follow these styling suggestions, then let gentle waves cascade elegantly over your shoulders and down your back.
The Hair Knotting Method
What You Need
Hairbrush
Claw clips or double prong clips
Hairspray
How To Style
Brush your moist hair to remove any knots or tangles.
Using a 3-inch section of front hair, make a loop towards the roots.
Pull the hair's tail end through the loop, but not completely.
Secure the knotted hair part to your head with a clip.
Tie all of your hair up in such a knot.
Wait a few hours for your hair to dry before removing the knots.
Before releasing the knots, spray them with hairspray.
To make your waves look softer, brush out your hair.
Twisted Crown Method
What You Need
Bobby pins
U-pins
Light hold hairspray
How To Style
Divide your damp hair into two portions, one on each side, by parting it down the middle.
Twist the hair on your left until it's completely twisted.
Pin this twisted hair behind your right ear and across the crown of your head.
Use additional bobby pins and U-pins to keep it in place.
On the right side, repeat steps 2–4.
Sleep with these crown twists in your hair.
Spray your hair with a light-hold hairspray before unraveling it and shaking out the waves.
How to style long wavy hair with a scarf 
What You Need
Texturizing spray
A scarf
Hair elastic
How To Style
Using a texturizing spray, spritz your moist hair.
Tie a hair elastic a couple of inches above your hair's ends.
In the middle of your scarf, tie a knot.
Tuck the end of your ponytail behind your head and cover it with your scarf.
Begin wrapping your hair around the scarf as you roll it towards your head.
Tie the end of the scarf at the top of your head once you've reached the roots of your hair.
To acquire stunning wavy hair, sleep with this hair wrapped up overnight and remove it in the morning.
The Snake Braiding Method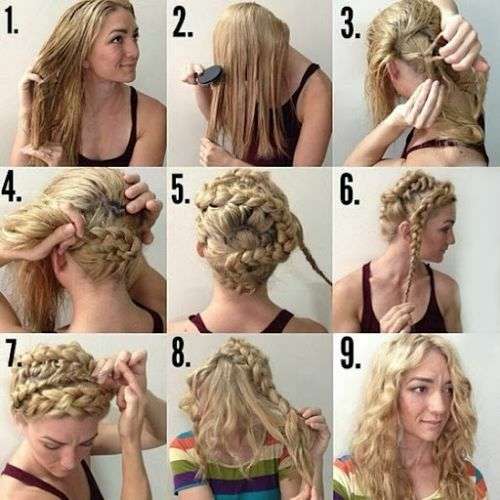 What You Need
Hair elastic
Light hold hairspray
Hairbrush
How To Style
Brush out any knots or tangles in your moist hair.
Push all of your hair to the front of your head.
Begin Dutch braiding your hair horizontally near your left ear, at the nape of your neck.
To do so, separate a 2-inch portion of hair into three strands.
Braid this hair by tucking the side strands beneath the main strand and adding additional hair to the braid with each strand.
Change your pattern and continue braiding in the opposite direction after your Dutch braid has gotten near your right ear.
Continue braiding in this manner until all of your hair is braided in a snake pattern.
When you've run out of hair to braid, simply braid the remaining hair down. Your braid's tail should be pinned to your head.
Keep this braid in place until your hair is completely dry.
Before you open your braid, spritz it with hairspray.
Brush your hair out to reveal beautiful, wavy locks.
The Fishtail Braid Method
What You Need
Texturizing spray
Hair elastic
How To Style
Using a texturizing spray, spritz your almost-dry hair all over.
Make two portions in your hair.
Take a thin section of hair from the left section's outer side and place it on the right section's inner side.
Take a thin section of hair from your right portion's outer side and place it on the left section's inner side.
Continue to alternate steps 3 and 4 until your braid reaches the finish, then fasten it with a hair elastic.
Wear this braid overnight if you want to sleep in.
Open your braid the next morning and shake out your hair to unravel your waves.
The Flat Iron Method
What You Need
Dry shampoo
5-inch flat iron
Sea salt spray
Light hold hairspray
How To Style
Begin by applying dry shampoo to your hair's roots.
Make a division in the upper half of your hair.
Curl the lower half of the loose hair at the bottom with a flat iron.
Remove the clip from the top of the head and repeat the previous procedure.
To add texture to your waves, spritz your hair with sea salt spray and scrunch it with your hands.
Spray your waves with hairspray to keep them from unraveling during the day.
The Curling Iron Method
What you need
Hairdryer
Curling iron
Conditioner
How to style
Begin with freshly washed and blown-out hair.
Then, to assist accentuate your curls, prep strands with a holding product.
After that, section your hair into two pieces and divide it in half from ear to ear. To keep the top section of your hair out of the way, tie it back.
Pull a portion of hair from the rear section and curl it towards your face with the curling iron.
It's much more difficult to preserve a curl with straight hair. Pin the hair towards the scalp as you continue to curl it, forcing the curl to solidify.
Repeat with the top section of your hair until you've curled your entire head.
Allow five to ten minutes for the hair to set.
Brush your hair with a boar-bristled paddle brush to release all of your curls.
The methods listed above will assist you in swiftly generating various wavy hairstyles at home. If you're looking for hairstyle inspiration, check out Top finger wave hairstyles to try in 2021.
That's all there is to it! The most efficient ways to get wavy hair. What are you waiting for now that you know how to style long wavy hair? Let us know which wavy hair techniques worked best for you.